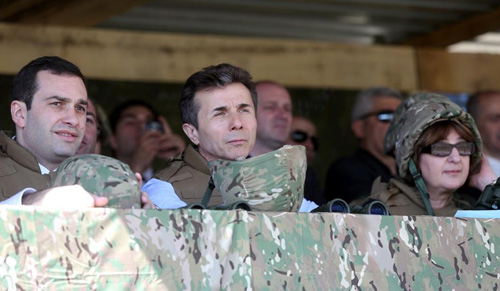 From left to right: Defense Minister Irakli Alasania; PM Bidzina Ivanishvili and Foreign Minister Maia Panjikidze watch military exercises at the Vaziani base outside Tbilisi on April 30. Photo: PM's press office.
Georgia has set a goal to get Membership Action Plan (MAP) from NATO when the Alliance holds its next summit in 2014, PM Bidzina Ivanishvili said.
"Next year we should undertake a very vigorous step and get at least MAP," PM Ivanishvili told the audience at an event marking the Georgian Armed Forces Day on April 30.
"We probably won't be able to get more than that, but we have strictly set MAP as a target and next year when there is a gathering of NATO [leaders] we should undertake a powerful step in this direction," Ivanishvili said drawing applause from the audience.
He also said: "We should become NATO member state and those [Georgian] soldiers who now serve in Afghanistan… contribute most of all to this deed [of NATO integration]."
Some of his cabinet members, including Defense Minister Irakli Alasania, although saying that they share optimism of the PM, were still more cautious in their remarks about prospect of receiving MAP next year.
"We have a reasonable ambition that through its reforms, which are underway in the defense, security and rule of law, Georgia will be ready to undertake a powerful step and get closer to NATO. What kind of step it will be, what the name of this integration will be is up to NATO to decide... I share optimism of our Prime Minister; it will require a huge work in order to get desired results," Irakli Alasania said.
"I do not want us to create exaggerated expectations, but working round the clock can make everything possible," Alexi Petriashvili, the state minister for European and Euro-Atlantic integration issues, said.
Earlier on April 30, the PM, accompanied by some other government ministers and parliament speaker Davit Usupashvili, observed military drills at the Vaziani base outside Tbilisi, also marking the Georgian Armed Forces Day.
At 2008 NATO Bucharest summit Georgia was refused to Membership Action Plan (MAP) but granted a pledge that it would join the Alliance sometime in the future.
In September, 2008 NATO-Georgia Commission was launched – the main mechanism through which Georgia's cooperation with the Alliance is currently supervised.
In December, 2008 Annual National Programme (ANP) was introduced - a mechanism through which reform targets are being set by the Georgian government and then reviewed by the Alliance.
ANP in substance is seen to be, as one diplomat put it, "de facto the same Membership Action Plan."
But when NATO decided to launch the Annual National Programme with Georgia, it also stated that it was done "without prejudice to further decisions which must be taken about MAP".
Speaking at NATO Parliamentary Assembly's Rose-Roth Seminar in Tbilisi on April 29, head of NATO Liaison Office in Georgia, William Lahue, said that Georgia "no doubt has made a tremendous progress" and added that the previous authorities "stabilized this country in government".

"And the new government has taken these conditions it's been given and has moved to reform areas that it believes need to be more transparent, more open and more democratic," he continued. "The evidence for this can be seen in their legislation, in the activities of the government agencies as they invite representatives of the Allies, international organizations, non-governmental agencies to see with their own eyes what kind of transformations are taking place."