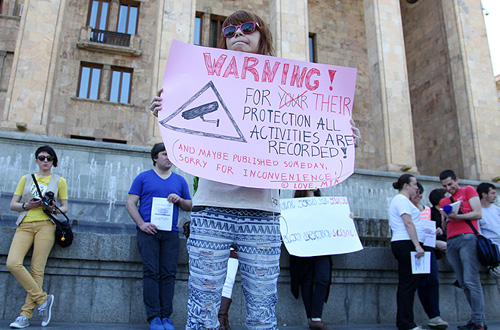 A participant of a small demonstration against breach of privacy rights holds a banner outside the old parliament building on Rustaveli Avenue in Tbilisi, May 4. Photo: Guram Muradov/Civil.ge
Leak of a secretly recorded threesome sex video, which was available on the internet and which purportedly featured a man who has recently been fiercely criticizing some senior officials, has further fueled concerns over privacy rights in Georgia.
Timing of the release of the video gives the case a political aspect as well. One of the two men in the video was identified as the person previously affiliated to Tbilisi-based Obieqtivi media outlet, who has claimed for number of times recently that PM Ivanishvili's close advisor Gia Khukhashvili, deputy interior minister Gela Khvedelidze and deputy chief prosecutor Lasha Natsvlishvili managed to take control over businesses, which previously were controlled by the previous government.
The man, who summoned a press conference on May 4, said that the video was "fabricated" and blamed Khukhashvili, Khvedelidze and Natsvlishvili of being behind the release of this "fabricated" footage with an attempt to discredit him after he started accusing these officials of corrupt deals. He also said he was "sure" that Interior Minister Irakli Garibashvili "is not involved" in the release of the video.
Khukhashvili condemned release of video as "unimaginable crime" and said in a written statement on May 4 that allegations against him were part of a smear campaign against him. He also said that the man, who was blaming him of being behind the release of the video, was himself "a victim" of the same "provocation" which was targeting him and some other officials.
The Interior Ministry said on May 3 that upon an appeal from a Tbilisi-based gay rights group, Identoba, it launched an investigation into the case of breaching privacy rights.
It also said that Interior Minister Irakli Garibashvili was personally overseeing ongoing investigation.
Public Defender, Ucha Nanuashvili, called on the Interior Ministry to carry out "effective investigation" to identify those behind the leak of the video.
In January, 2013 the prosecutor's office said that it was investigating cases of illegal surveillance by the previous leadership of the Military Police, which was gathering secretly recorded videos of "publicly well-known" men having gay sex. In an attempt to prove that such videos were gathered under the previous authorities, the prosecutor's office released via television channels several recordings in which bodies of persons on footages were blurred to conceal their identities. The move triggered wave of criticism from rights groups, which said that although videos were blurred, it did not provide complete protection those on the videos from being identified.
On April 29 PM Ivanishvili, parliament speaker Davit Usupashvili and interior minister Irakli Garibashvili met a large group of civil society representatives at a conference discussing measures to prevent illegal surveillance and eavesdropping. At the meeting the PM and other officials present at the conference vowed to cooperate closely with the civil society groups in creating mechanisms both on legislative and executive level to provide tight public scrutiny in order to prevent illegal surveillance.
At the same meeting Interior Minister Garibashvili said that a huge cache of audio and video recordings, obtained through illegal surveillance on political figures, which was gathered by the previous leadership of the ministry, was still stored in the Interior Ministry. Garibashvili says that these files will only be destroyed after the investigation into these multiple cases of illegal surveillance are over.
On May 4 over a dozen of people gathered at a small rally, called by the gay rights group Identoba, to protest against cases of breach of privacy. Some demonstrators were holding banners like: "Everyone has the right to sex, no one has the right to illegal surveillance" and "stop surveillance". The demonstration was about to disperse when a group of young men approached the participants and started insulting and swearing at them, shouting homophobic remarks. The incident, which briefly grew into a minor scuffle, was defused after the police arrived.
The same LGBT rights group, Identoba, plans a rally in Tbilisi center on May 17 to mark the International Day Against Homophobia. Last year when gay rights activists were marching on that day in downtown Tbilisi, the procession was disrupted by an Orthodox group, which grew into scuffles. Identoba has called on the law enforcement agencies to take measure in order to prevent reoccurrence of last year's incident during its upcoming rally on May 17.