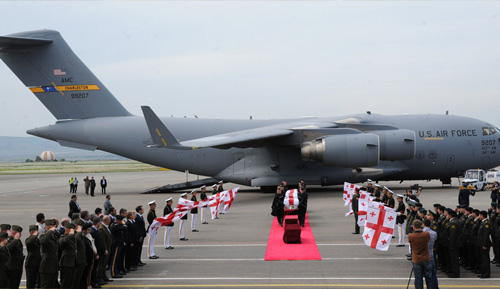 The U.S. air force aircraft, carrying the three Georgian soldiers coffins, landed in airport in Tbilisi before noon on Thursday. Georgian MoD photo
National flags on public buildings are flown at half-staff on Thursday to honor three Georgian soldiers killed in the May 13 insurgent attack on an outpost in Shir Ghazay, Helmand province in Afghanistan.
Master Sergeant Zviad Davitadze, 33; Corporal Aleksandre Kvitsinadze, 26, and Corporal Vladimer Shanava, 24, served with the 42nd battalion from the fourth infantry brigade.

The bodies of the three men were flown back to Georgia by U.S. air force aircraft on Thursday.
Defense Minister Irakli Alasania and Georgian army commanders, as well as fallen soldiers' family members were in the Tbilisi airport attending repatriation ceremony; U.S. charge d'affaires Bridget Brink and head of NATO Liaison Office in Georgia William Lahue were also present.
Earlier on Thursday Defense Minister visited the fourth army brigade's base in Vaziani outside Tbilisi, where he told soldiers that the Georgian servicemen, killed in the May 13 attack in Afghanistan, "sacrificed their lives for the future of our country."
Public service for fallen soldiers will be held in the Kashueti Orthodox church in downtown Tbilisi on Thursday evening.
The recent incident brought total death toll of the Georgian soldiers in the ISAF mission to 22; at least 113 Georgian soldiers were wounded in Afghanistan.
Georgia has over 1,560 soldiers in Afghanistan making the country the largest non-NATO troop contributor to the ISAF mission.
Georgia's first contribution to the Afghan operation came in 2004 when 50 soldiers were briefly deployed in the country under the German command as part of ensuring security during the presidential elections.
In November, 2009 Georgia deployed 173 soldiers in Kabul under the French command and in following year Georgia increased presence in Afghanistan by sending an infantry battalion in the Helmand province serving along with the U.S. marines and Georgia sent one more battalion to the Helmand province in autumn, 2012.