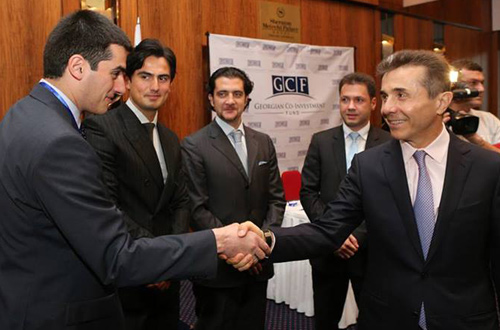 PM Bidzina Ivanishvili (right) and so far the largest investor to newly launched Georgian Co-Investment Fund (GCF), greets fund's senior executives on September 30; from left to right: managing directors Tsotne Ebralidze, Irakli Menabdze, George Kikvadze and CEO Giorgi Bachiashvili. Photo: PM's press office
Launch of a much-anticipated private equity fund of USD 6 billion, targeting energy, manufacturing, tourism, logistics and agriculture, was announced by PM Ivanishvili on September 30.
Ivanishvili, who has committed USD 1 billion of his own money to the Georgian Co-Investment Fund (GCF), said the initiative aims at attracting foreign direct investment and encouraging economic growth; these are "the major challenges" for Georgia right now, he said.
Other investors in GCF are: Dhabi Group and Ras Al Khaimah Investment Authority (RAKIA) from the United Arab Emirates; Turkey's Çalik Holding; Milestone International Holdings from China; State Oil Fund of Azerbaijan; Kazakh KazTransOil's subsidiary Batumi Industrial Holdings, which manages Black Sea port of Batumi; as well as billionaire and founding shareholder of mining giant ENRC, Alexander Mashkevich, and the family of late tycoon Badri Patarkatsishvili.
CEO of the Georgian Co-Investment Fund Giorgi Bachiashvili said at the presentation that up to ten investment projects with a total worth of USD 500 million are being currently considered.
"Our strategy is not to enter into crowded segments of the market," he said.
The size of potential investment project should be at least USD 5 million in order for the GCF to consider entering into deal.
GCF, according to the scheme, plans to hold from 25% to 75% of equity shares in investment projects for up to seven years, extendable to a maximum of two more years.
After maximum of nine years GCF intends to exit from its investment projects through sale of its ownership interest to either one of the co-owners of project or to third parties or through initial public offering.
GCF expects to direct about half of its currently available USD 6 billion capital to the energy sector, with about USD 1.5 billion going to manufacturing, USD 1 billion to tourism and rest to agriculture and other potential investment projects.
"The Fund will not limit itself only with these sectors and it is ready to accept proposals in other possible sectors of the economy as well," Bachiashvili said, but also added that the fund will not be involved in "speculative" transactions related to trade with raw materials, currency and real estate.
Before being appointed as CEO of GCF, Bachiashvili, 28, served in recent months as a deputy chief executive of the Partnership Fund, which controls stakes in major state-owned enterprises. Before that Bachiashvili was chief financial officer at Unicor, a company which was in charge of managing Ivanishvili's Russian assets, which were sold last year.
Other key executives of GCF are managing director in charge of energy and infrastructure Irakli Menabde, who was a founding partner at asset manager M2 Capital Partners; managing director for agriculture and logistics George Kikvadze, who is a supervisory board member of one of Ukraine's largest dairy and meat producers, Terra Food Group, and was a chief investment officer at Ukrlandfarming, a leading agro holding in Ukraine; managing director Tsotne Ebralidze, who was a corporate banker at TBC Bank and before that served as deputy CEO of Tbilisi-based real estate developer Arci; Archil Mamatelashvili, who was Georgia's deputy energy minister in 2005-2007 and served as CEO of JSC Caucasus Energy & Infrastructure, will be in charge of research and risk analysis at GCF; Thea Jokhadze, a former head of funding at the Bank of Georgia, is chief financial officer of GCF.
Speaking at the launch of the GCF, PM Ivanishvili also raised importance of political stability and mentioned in this context upcoming presidential election on October 27.
"Co-habitation will be over on October 27 and I assure you that Georgia will have a very dignified president, Giorgi Margvelashvili [the Georgian Dream presidential candidate]; so we will have a good president and a good government," Ivanishvili said and added that his pre-term resignation and planned departure from the politics would only help attracting more investments. "I will work a lot with business and investors."
Ivanishvili first announced about the initiative to launch the private equity fund shortly after becoming after last year's parliamentary elections.
"It will depend much on [GCF] management and the government as well how this fund will develop. I think potential for its capital growth is high and if we manage to implement several successful projects, interest from investors towards Georgia will further increase," Ivanishvili said.
Speaking at the launch of the GCF on September 30, Ivanishvili said that such fund will also help to attract investments for planned deep sea port in Anaklia, close to the administrative boundary line of breakaway Abkhazia. Ivanishvili said efforts are currently underway on setting up of "a consortium" and to raise funds; he did not go into details of the issue. "It may become one of the largest projects in Georgia," he said. The previous government was also considering construction of a new port on Georgia's Black Sea, between Anaklia and Kulevi in the north from port town of Poti.