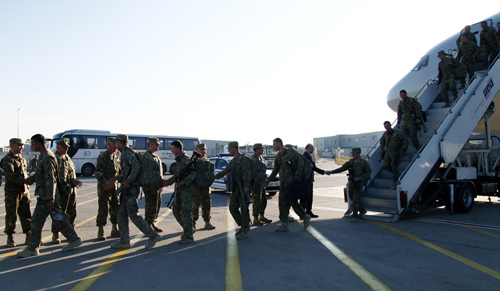 50 soldiers from the 42nd infantry battalion disembark in the Tbilisi airport on October 10, 2013 after serving six-month tour of duty in the Afghan province of Helmand; rotation of the battalion will be over before the end of this month. 42nd infantry battalion suffered heavy losses with ten of its soldiers killed in two separate attacks. Georgian MoD photo
Georgia will complete this month rotation of its two infantry battalions, stationed in the Helmand province of Afghanistan, according to the Georgian Ministry of Defense.
Soldiers from 31st light infantry battalion of the third brigade and Batumi-based infantry battalion are replacing 33rd and 42nd battalions from the third and fourth brigades for a six-month tour of duty.
42nd light infantry battalion of the fourth brigade suffered heavy losses during its six-month deployment. Seven of its soldiers were killed and nine wounded after a truck bomb hit their base on June 6; three of its soldiers died and 27 sustained injuries in a similar attack on their base in Shir Ghazay on May 13.
It is the first deployment to Afghanistan for the Batumi-based infantry battalion and the third tour of duty for the 31st battalion. This latter was the first Georgian military unit, which was deployed in Helmand to serve alongside with the U.S. marines in April, 2010.
Georgia is the fifth largest troop contributor to ISAF with 1,561 soldiers, after the U.S. (60,000), the UK (7,700), Germany (4,400) and Italy (2,825); Georgia, whose troops operate without caveats, is the largest non-NATO contributor to the coalition forces in Afghanistan.
Two Georgian battalions are stationed in Helmand and up to 50 soldiers are deployed in Camp Phoenix in Kabul. Georgia lost 29 soldiers in Afghanistan.