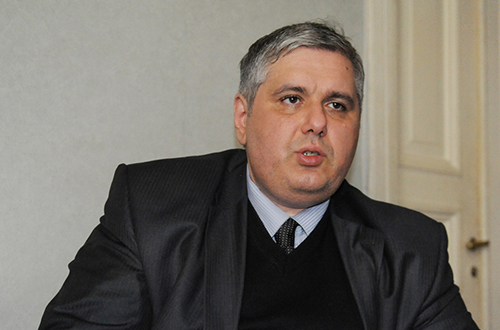 Photo: Eana Korbezashvili/Civil.ge
Koba Davitashvili, 42, is an MP and leader of small Party of People. He is in politics since late 1990s when he was elected in the Parliament from then ruling United Citizens Union party, which he quit in 2001.
He then joined newly formed United National Movement of Mikheil Saakashvili where Davitashvili was one of the key figures, but he quit UNM in 2004.
Davitashvili was again elected in the Parliament through Georgian Dream's party list in October 2012, but he came at odds with government and other GD lawmakers for number of times and quit GD in early August.
He was criticizing GD for not taking tough line against UNM and for pursuing "cohabitation course".
After quitting GD he tabled a bill banning UNM representatives from taking posts in executive government, which was voted down by the GD parliamentary majority.