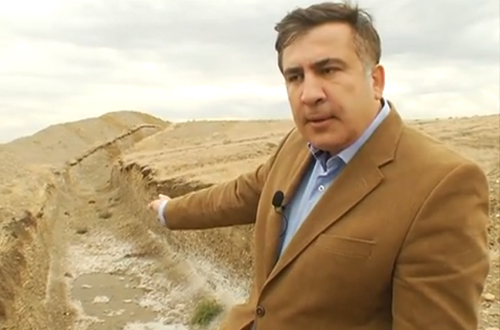 A screengrab from video footage showing President Saakashvili pointing at a ditch he says is an anti-tank trench dug by his government, but suspended by the incumbent one.
Standing in southern outskirts of Tbilisi on October 23 in front of a long wide ditch, outgoing President Saakashvili slammed the government for what he said was suspended construction of defensive fortifications around the capital city.
"Previously it was the state secret," Saakashvili says in a video released by his press office, "but I speak about it with full responsibility, because I understand that Georgia's enemy already knows about it."
"After 2008 [war with Russia], we started in 2009 building of defensive fortifications around Tbilisi," he continued. "We created concrete bunkers on the heights all around Tbilisi and Tbilisi today is well-protected with these concrete bunkers and unlike 2008 now it is very difficult to attack Tbilisi from the North."

"Then we considered possibility that if the Russians found it difficult to attack [Tbilisi] from the North, they might have used their bases on the territory of Armenia and this plan was under consideration in Russia, so we also started to create fortifications in the [southern] direction," he said.

"70% of these fortifications have been completed. What you see here is an anti-tank trench; we have built 25-kilometer long [trench] here and only few kilometers are remaining," he said.
"I have spoken with officers from the [joint] staff [of the armed forces] and they said the government explained to them that we are irritating and provoking Russia by building of these facilities," Saakashvili said.
"I want to say that we will provoke them [Russia] if we are defenseless. Each and every such fortification slows down and complicates for a long any further offensive operations by Georgia's enemy. We used foreign engineers for it; we worked very hard and spent much energy."
"I repeat that it is no longer a secret as Russians already know about it," he said.
"Construction of these fortifications has been completely suspended and the exploitation of the already constructed facilities is in fact facing sabotage," Saakashvili said.
"I consider this as a harmful act directed against the security of Georgia and the Georgian people must know about it," he said.