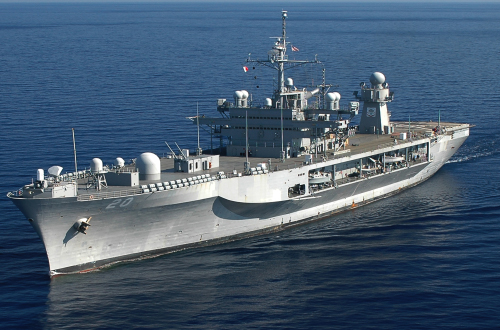 Photo from USS Mount Whitney's
website
The U.S. 6th Fleet flagship, USS Mount Whitney, arrived in Georgia's Black Sea port of Batumi on November 11 "for a regularly scheduled port visit that will include combined training exercises with the Georgian Coast Guard," according to the U.S. embassy in Tbilisi.
According to the Georgian authorities, joint trainings planned for November 12 will include fire-fighting, command and control, information sharing exercises. USS Mount Whitney will stay in Batumi till November 13.
Previously when USS Mount Whitney, a sophisticated command warship which is based in Italy, sailed into the Black Sea was five years ago, when the warship dropped anchor off Georgia's port of Poti on September 5, 2008 to deliver humanitarian aid less than a month after Georgia-Russia war; at the time Russian military forces were still maintaining two outposts in the outskirts of Poti.
It is the second visit of a U.S. warship to Georgian port this year. U.S. guided-missile destroyer Bulkeley (DDG 84) made a four-day port call in Batumi in August.
"This visit serves to continue U.S. 6th Fleet efforts to build global maritime partnerships with Black Sea nations and improve maritime safety and security," the U.S. embassy said on November 10.
"U.S. Ambassador to Georgia Richard Norland and Defense attaché Col. Matt Dimmick will visit the ship during its Batumi visit," it said. "Georgian officials and local residents will welcome the crew at Batumi pier and members of the crew will participate in a community relations project in the city of Batumi."
The USS Mount Whitney entered the Black Sea and made a port call in Burgas, Bulgaria on November 4.