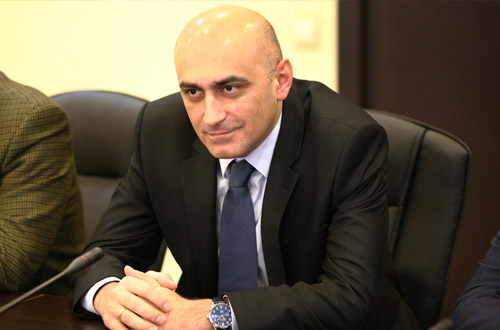 Alexi Batiashvili at a meeting with top brass of the defense ministry and the army on November 23. Photo: Georgian MoD
Alexi Batiashvili, who served as deputy to now PM Irakli Garibashvili when the latter was interior minister, has been appointed as deputy defense minister.
As deputy defense minister Batiashvili, who replaced Zaza Broladze, will oversee finances, procurements, military-technical and information technologies departments.
Batiashvili served at the state security ministry in 1995-2004; in a period between 2002 and 2004, when now defense minister Irakli Alasania was deputy security minister, Batiashvili served as head of constitutional order protection unit and deputy head of the ministry's main division in Tbilisi. He was head of the information bureau of financial and property declarations of public officials at the Ministry of Justice in 2004-2009 and served as deputy interior minister since October, 2012.
"He has demonstrated that he's a very good manager and an honest person; we have trusted him and over past one year he has overseen efficient and fast reforms at the interior ministry," Irakli Alasania, the defense minister, said on November 23.