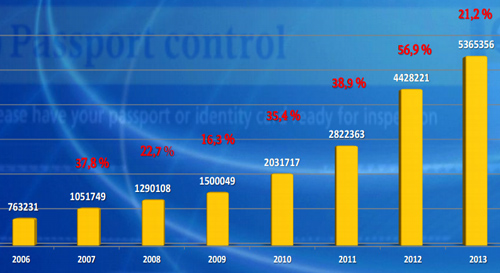 Figures from the official statistics show number of entries into Georgia by foreign citizens per year starting from 2006 and year-on-year percentage change. The figures represent an aggregate number of entries into the country without breakdown by purpose of the visit. Source: Ministry of Internal Affairs
Visits to Georgia by foreign citizens increased 21.16% year-on-year in 2013 to total of 5,365,356, according to official figures released on January 6.
These statistics, compiled by the Interior Ministry, are based on border crossing data.
In these data, travelers entering into Georgia and staying in the country for more than 24 hours are classified as "tourists".
Of these total of 5.36 million visits registered in 2013, slightly over 2 million were identified as "tourists", a 16.3% increase over the previous year, according to these data.
Number of visits to Georgia by foreign citizens increased significantly over the past several years; share of tourists was also increasing but pace of its growth was lagging behind compared to total visits, causing decline of its share. Number of travelers identified as tourists made 52.5% of total visits in 2010; the share stood at 46.7% in 2011, declining to 40.4% in 2012 and 38.8% in 2013.
Citizens from Georgia's neighboring states made up the largest share in total visits in 2013. Turkish citizens lead the pack with 1.59 million entries into Georgia (3.8% y/y increase), followed by Armenian citizens with 1.28 million entries (39.4% y/y increase); Azerbaijani citizens – 1.07 million (15% y/y increase); Russian citizens – 765,458 (49% y/y increase).
Number of visits by the Ukrainian citizens into Georgia increased 64.8% y/y in 2013 reaching 126,300.
There was a 12.3% y/y decline in number of visits to Georgia by Iranian citizens in 2013, when the figure stood at 78,633. Georgia unilaterally scrapped visa-free entry to Iranian citizens starting from July 1, 2013. Visa-free rules for the Iranian citizens was in force from January 2011, leading to increase number of visits to Georgia by the Iranian citizens from about 21,000 in 2010 to slightly over 60,000 in 2011 and 89,700 in 2012.
Number of visits to Georgia by citizens from the EU-member states increased 21.9% y/y, reaching 206,999 in 2013.