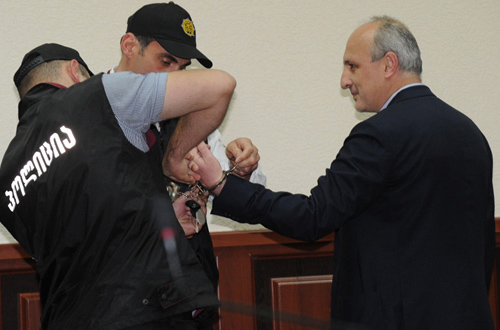 Vano Merabishvili seen in a courtroom in Kutaisi on May 22, 2013, when the court ordered his pre-trial detention. Photo: InterPressNews
City Court in Kutaisi found ex-PM Vano Merabishvili guilty of several criminal charges into two separate cases and sentenced him to five years in jail.
The court also said on February 17 that time spent in pre-trial detention by Merabishvili since May, 2013 will form part of the punishment; as a result, his remaining prison term will be 4 years, 3 months and 4 days.
The judge ruled that actions committed by ex-healthcare minister Zurab Tchiaberashvili, who was a co-defendant with Merabishvili in one of the cases, should be qualified as neglect of official duty not as exceeding official powers and should be fined with GEL 50,000. Tchiaberashvili was acquitted of misspending and bribing of voters charges.
Defense lawyers said that they will appeal the verdict, which was condemned by UNM opposition party as politically motivated.
Merabishvili did not attend announcement of the verdict in the Kutaisi City Court on February 17. At the preliminary court hearing before the trial five months ago he said: "Of course I do not take this trial seriously, because the verdict is predetermined."
"It is obvious that the judge failed to withstand pressure from the government," Giga Bokeria of the UNM said in Kutaisi after the verdict was delivered. "It is a very bad day not only for justice, but also for democratic tradition in Georgia."

Merabishvili, who was arrested on May 21 2013 and was in pre-trial detention since then, was standing trial into two separate cases.
The first one involved allegations of funneling over GEL 5.2 million public funds to UNM's election campaign ahead of the parliamentary elections in 2012, when he was the Prime Minister. Zurab Tchiaberashvili, who was the healthcare minister at the time, was a co-defendant in that case.
The second case, which was heard by the court in Kutaisi jointly with the first one, involved allegations that he misappropriated a seaside villa from its private owner and used over GEL 157,000 of Interior Ministry's funds to refurbish it in 2009, when he served as the interior minister.
In the first case judge of the Kutaisi City Court, Natia Barbakadze, found Merabishvili guilty of misspending and bribing of voters, and in the second case he was found guilty of misspending/embezzlement and infringement of inviolability of property right.
Based on Parliament's December 2012 amnesty act and concurrent sentencing rule, Merabishvili was sentenced to five years in prison; in addition he was also banned from holding any public office for a period of a year and a half.
In both of these cases Merabishvili was also charged by the prosecution with exceeding official powers, but the court dropped those charges.
The prosecutor's office said on February 17 that it will appeal the part of the verdict by which some charges were dropped from Merabishvili and by which Tchiaberashvili was acquitted of misspending and bribing of voters charges.
Merabishvili is also standing trial into separate charges involving "exceeding official powers with aggravated circumstances" in connection to break up of a protest rally, led by ex-parliament speaker Nino Burjanadze, in Tbilisi overnight on May 26 2011, when Merabishvili served as the Interior Minister.
In addition, Merabishvili also faces criminal charges, involving alleged abuse of office, in connection to Sandro Girgvliani murder case in 2006; prosecutors accuse Merabishvili, who at the time was the Interior Minister, of series of premeditated actions aimed at covering up evidence in an attempt to obstruct justice into this murder case. Merabishvili denies all these charges as politically motivated.