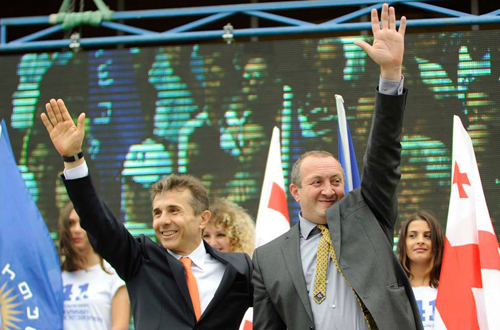 A file photo shows Bidzina Ivanishvili and Giorgi Margvelashvili at a presidential election campaign event of Margvelashvili on October 19, 2013.
President Giorgi Margvelashvili said that it was "not so pleasant" for him to hear former prime minister Bidzina Ivanishvili criticizing him, but the President pointedly declined to discuss details of his differences with the former PM.
Margvelashvili made the remarks while speaking at a press conference held in the glass-dome presidential palace in Tbilisi's Avlabari neighborhood – Margvelashvili's decision to use the palace, despite of his initial refusal, was one of the issues for which Ivanishvili criticized the President.
Margvelashvili summoned the press conference to make a statement condemning Russia's absorption of Crimea, but the conference was dominated by questions on Ivanishvili's criticism of Margvelashvili.
Unlike Ivanishvili who spoke at length in a TV interview about his past relations with Margvelashvili and points of disagreements and some of the discussions he had with the President, Margvelashvili was repeatedly declining during the press conference to engage in discussing those details.
He said that he is not in favor of speaking about private conversations between two persons publicly with media.
"Bidzina's remarks about and his attitude towards me are really important for me because I value highly Bidzina's [views]," said Margvelashvili, who was referring to Ivanishvili with his first name.
"His opinion is important for me, hence his attitude and his criticism are not so pleasant for me," Margvelashvili added.
"Bidzina also spoke that there were certain issues on which we failed to agree; there were intensive discussions over these issues, but I want to stress that I am not going to take these conversations and discussions public because of one reason – this is the issue of relations between me and Bidzina, it is not about my relation with Bidzina via media sources; I am not going to discuss these issues publicly," he said.
"Of course his assessments and remarks are painful and important for me," Margvelashvili added.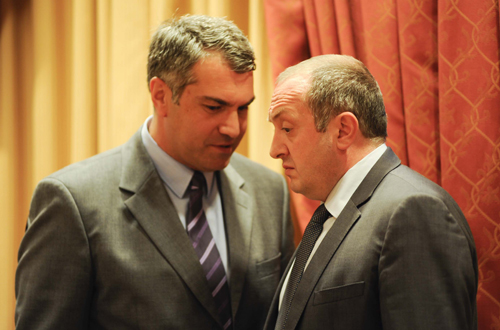 Giorgi Margvelashvili (right) and his foreign policy adviser Vano Matchavariani (left), November 4, 2013. Photo: Margvelashvili's press office
Ivanishvili, among other things, also complained about Vano Matchavariani being, as he put it, Presidents' "favorite". Matchavariani, who is brother of UNM lawmaker Mikheil Matchavariani, is Margvelashvili's foreign policy adviser.
Asked on the issue, Margvelashvili responded: "Relations between Vano and Bidzina – this is an issue on which these two men are speaking very openly so you can judge about these relations. We had conversations about it, but I am not going to discuss publicly my conversations with Bidzina."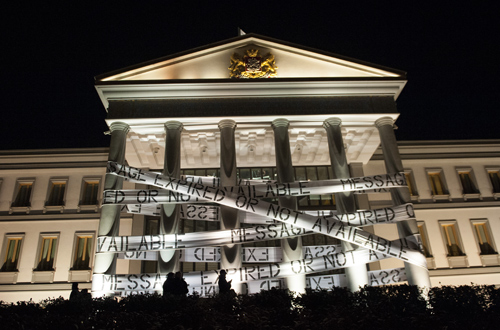 Before moving to the glass-dome presidential palace in Avlabari this month, President Margvelashvili turned its space into an exhibition hall for few days in February, organizing an exhibition of contemporary Georgian art. Photo: Eana Korbezashvili/Civil.ge
On his decision to move into the glass-dome presidential palace, Margvelashvili said that his initiative was to house a new university in this palace, but the project "has not yet kicked off." He said that "it was very hard to work in two rooms" of government chancellery, where his office was located and the decision was taken to move into the presidential palace.
Asked about his relations with the government, Margvelashvili responded that there is no longer political cohabitation in Georgia and added that he remains fully in line with Georgian Dream coalition's key policy course and there has not been even a single case in his foreign or domestic policy activities showing turning away from this course.
"We are acting in frames of common value system," Margvelashvili said.
He also said that he has a "very normal, working relation" with the government.