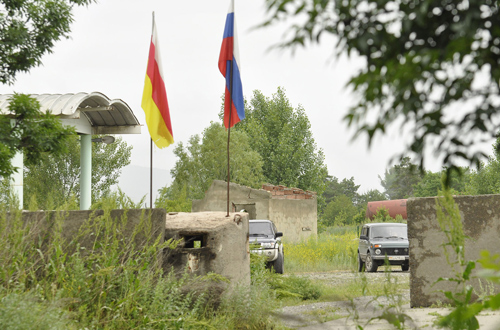 "Russian flag and breakaway South Ossetia's flag seen at a checkpoint in Ergneti on the administrative boundary line, June 3, 2014. Photo: InterPressNews
United Ossetia, party which has campaigned for South Ossetia's joining to Russia, is set to take majority in the breakaway region's legislative body as a result of Sunday's parliamentary polls.
Four out of nine parties, which were contesting in the elections, have cleared 7% threshold required for endorsing members in the parliament, breakaway region's Central Election Commission (CEC) said on Monday morning.
Breakaway region's CEC said that United Ossetia is leading with over 43.19% of votes, giving the party 20 seats in 34-member parliament.
Unity of People, party led by head of Java district, Vladimir Kelekhsaev, follows with 13.24%, which will be translated into 6 seats in the legislative body.
People's Party, led by a member of outgoing parliament Alexander Pliev, won 4 seats with 9,09% of votes.
Nikhas, which received 7,47% of votes, is set to take 4 seats in the parliament, according to CEC. Nikhas is led by mayor of Tskhinvali Alan Albarov and is backed by breakaway region's interior minister Akhsar Lavoev and chief of foreign intelligence Soslan Gatikoev.
Early results showed that Nikhas was failing to clear 7% threshold and only three parties were winning seats in the legislative body, but results changed by Monday morning, giving Nikhas over 7% of votes.
Winner of the elections, United Ossetia, is led by Anatoly Bibilov, an acting minister of emergency situations. Joining Russia was one of the key campaign themes of the party ahead of elections; it calls for holding a referendum on this issue.
"The party now has a chance to carry out all the points of its pre-election program. We will deliver with all the promises we made," Bibilov said after the election results were announced, local news agency, RES, reported. He said that his party will fight corruption and develop the region's economy.
"But the major expectation that voters have from us is a prompt return back to the Russian Federation," Bibilov said.
"We have said for multiple times that we are ready to spare no effort for achieving this goal. Without shelving this issue, we will start working on it immediately," he added.

South Ossetian leader, Leonid Tibilov, said after casting ballot at a polling station in Tskhinvali on June 8: "We are facing lots of tasks. The republic needs a professional parliament. I hope that efforts of new lawmakers will be directed towards strengthening of [South Ossetia's] statehood, development of relationship with Russia and improvement of legislative base."
Breakaway region's CEC said on Monday morning that total of 21,129 voters cast their ballots in the Sunday's election, constituting 60.47% of total number of registered voters. Two hours before the polling stations were closed, CEC reported slightly over 50% voter turnout.
There are no credible data about number of voters in the breakaway region. South Ossetian Central Election Commission puts the figure at about 32,600. When in 2012 presidential election breakaway region's CEC said there were 34,000 voters, groups, which at the time were in the opposition, argued that the figure was overinflated.
It was the six parliamentary election in the breakaway region; Tbilisi denounces elections in its breakaway regions, which it formally considers as territories occupied by Russia, as illegitimate.
The Georgian Foreign Ministry said in a statement on June 9 that "so called 'parliamentary elections' held in the occupied Tskhinvali region" represent "yet another unsuccessful attempt of disguising ethnic cleansing of hundreds of thousands of people through elements of ostensible democratic governance."
"During the last twenty years people displaced from Georgia's occupied regions are deprived of the right to return to the places of their residence whereas the rights of a small number of population still living in these regions are violated every day by the occupation regimes," the Georgian Foreign Ministry said.
A spokesperson of EU foreign policy chief Catherine Ashton said in a statement on June 8 that the EU "does not recognise the constitutional and legal framework within which these elections have taken place."
NATO Secretary General, Anders Fogh Rasmussen, said in a statement on June 9 that the Alliance does not recognise Sunday's election in the breakaway region.
"This election does not contribute to a peaceful and lasting settlement in of the situation in Georgia. NATO Allies do not recognise the Abkhazia and South Ossetia regions of Georgia as independent states," Rasmussen said in the statement.