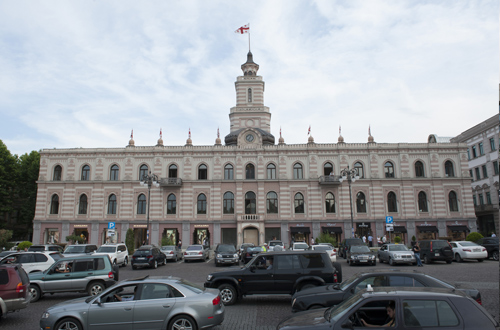 GD ruling coalition will take 37 seats in 50-member Tbilisi City Council. Photo: Eana Korbezashvili/Civil.ge
Central Election Commission (CEC) summarized on Friday the June 15 local election results for Tbilisi mayoral race and party-list vote for capital city's council (Sakrebulo), confirming preliminary results showing need for second round in mayoral race and giving ruling Georgian Dream coalition more than two-thirds of majority of seats in 50-member Sakrebulo.
Mayoral Race
Georgian Dream's Tbilisi mayoral candidate, Davit Narmania, who garnered 46,09% of votes, will face UNM's Nika Melia, who received 27,97%, in the second round runoff date of which has yet to be set.

Tbilisi mayoral candidate, nominated by Nino Burjanadze-led United Opposition coalition, Dimitri Lortkipanidze, was third in the race with 12.81% of votes, followed by Irma Inashvili of the Alliance of Patriots of Georgia with 5.37%; Asmat Tkabladze, nominated by the Labor Party – 2.46%; Kakha Kukava from Non-Parliamentary Opposition with 2.32% and MP Giorgi Gachechiladze, leader of Green Party with 1.13%.
Other seven mayoral candidates garnered less than 1% each.
3.43% of ballots were void in the Tbilisi mayoral race, according to figures in CEC's final vote summary protocol.
Voter turnout in the capital city was 37.26%.
Tbilisi Sakrebulo
In party-list vote for seats in Tbilisi Sakrebulo, the GD ruling coalition garnered 46.01% of votes, which means that it will take 13 seats in Sakrebulo under the proportional system.
In Tbilisi's 50-member Sakrebulo half of the seats are distributed through party-list representatives and remaining 25 seats are allocated to winners in capital city's 25 single-mandate constituencies.
GD candidates won in 24 single-mandate constituencies, as a result the ruling coalition will have total of 37 members in the capital city's 50-seat Sakrebulo.
An independent candidate, a former long-time journalist and Tbilisi preservationist activist, Aleko Elisashvili, won one majoritarian seat one of Saburtalo district's single-mandate constituencies.
UNM opposition party received 26.11% in the party-list vote and will have 7 members in the Tbilisi Sakrebulo.
Nino Burjanadze-led coalition, United Opposition, garnered 10.35% and will take 3 seats.
Alliance of Patriots of Georgia received 6.35% of votes and will have 2 members in Tbilisi Sakrebulo.
Other 15 parties and blocs, which ran for Tbilisi Sakrebulo's party-list vote, will not have representation as they failed to clear a 4% threshold.
Labor Party, led by Shalva Natelashvili, garnered 3.43% of votes; Non-Parliamentary Opposition, an election bloc by New Rights and Free Georgia parties – 2%; Georgia's Way, party founded by ex-foreign minister Salome Zourabichvili – 1.17%. Others garnered less than 1% each.
According to the law CEC is in charge of summarizing vote results of local elections in Tbilisi and District Election Commissions do the same in their respective provincial municipalities.