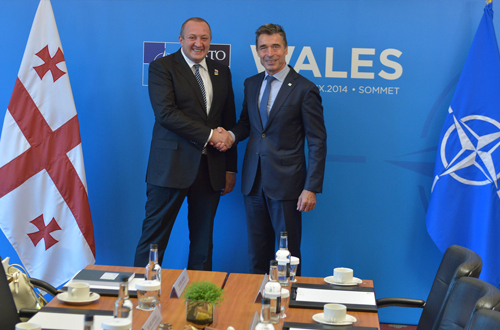 Georgia's President Giorgi Margvelashvili (left) and Secretary General NATO Secretary General Anders Fogh Rasmussen, September 4, 2014. Photo: NATO
President Giorgi Margvelashvili met NATO Secretary General Anders Fogh Rasmussen on September 4 before opening of a two-day summit of NATO leaders in the Welsh resort of Celtic Manor.
According to the Georgian president's office, the package expected to be offered to Georgia at the Wales summit was the focus of the discussions with the NATO Secretary General.
Addressing participants of the Atlantic Council's Future Leaders Summit earlier on September 4, Rasmussen reiterated that on September 5 NATO will adopt a "substantial package that will bring Georgia closer to NATO."
The package, he said, will include defense capacity building initiative, establishing training center in Georgia, as well as "occasionally" holding of NATO exercises in Georgia.
In series of tweets after the meeting with President Margvelashvili, the NATO Secretary General wrote that as one of the largest non-NATO troop contributor to ISAF in Afghanistan, Georgia "demonstrated itself as a security exporter."
"Tomorrow we'll launch a new cooperation package to help strengthen Georgia's defence, prepare for membership," Rasmussen wrote on his Twitter. He also wrote: "Georgia carried out remarkable democratic [and] defence reforms. NATO urges Georgia to continue reforms, uphold rule of law."
Addressing Atlantic Council's Future Leaders Summit in Wales on September 4, French General Jean-Paul Paloméros, who oversees education, training and exercises efforts as head of NATO's Allied Command Transformation, emphasized on the importance of NATO's cooperation with its partners.
"The Secretary General stressed the special initiative with Georgia – this is fascinating, because everybody would understand here how crucial it is that we succeed in this partnership with Georgia for the future and for today," Gen. Paloméros said.
At a meeting in June NATO foreign ministers decided that membership action plan (MAP) would not be extended to Georgia at the summit in Wales; instead, NATO foreign ministers agreed to develop a "substantive" package to help the country move further closer to the Alliance.