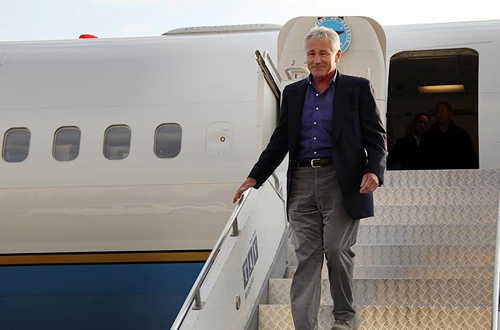 U.S. Secretary of Defense Chuck Hagel, Tbilisi airport, September 6, 2014. Photo: U.S. embassy
U.S. Secretary of Defense Chuck Hagel arrived in Tbilisi on Saturday, where he will hold talks with the Georgian leadership on Sunday before heading to Turkey.
Hagel will meet President Giorgi Margvelashvili, PM Irakli Garibashvili, as well as his Georgian counterpart Irakli Alasania.
He will also visit Krtsanisi national training center outside Tbilisi, where U.S. marines have been providing training to the Georgian troops for over a decade already.
It is the first visit of U.S. Secretary of Defense to Georgia in last eleven years. Donald Rumsfeld, then Defense Secretary visited Georgia in December, 2003 and prior to that he was in Tbilisi in 2001, which was followed by the launch of major U.S. training program for Georgian troops.
Hagel's visit comes after the NATO summit in Wales, where the alliance has pledged to enhance its cooperation with Georgia through number of measures to help the country prepare for NATO membership.
The White House said on September 5 that the U.S. is "developing plans" to support Moldova and Georgia and reiterated that, if funded by the Congress, President Barack Obama's European Reassurance Initiative will include provisions for increased assistance to build capacity in Ukraine, Moldova and Georgia to "provide for their own defense and increase interoperability with Western forces.
"In addition to high-level engagements, we plan to intensify security assistance over the longer term," the White House said.
Georgian Defense Minister, Irakli Alasania, said in an interview with Reuters on the sidelines of the NATO summit on September 5 that the U.S. Defense Secretary's visit demonstrates U.S. support to Georgia and expressed hope for deepening defence ties with Washington, citing past discussions about bolstering Georgia's defence capabilities, including air defence systems.
Alasania also told Reuters that Georgia's possible role in U.S.-led international coalition against Islamic State militants will be one of the issues to be discussed in talks with the U.S. Secretary of Defense in Tbilisi.
"We're awaiting requirements that the United States and the allies are putting out for partners," the Georgian Defense Minister said.
When announcing on August 29 about Hagel's planned trip to Georgia, the Pentagon said that the Secretary of Defense will thank Georgia, "one of the United States' and NATO's most important and capable partners", for its contribution to the mission in Afghanistan and before that in Iraq.
"Obviously, Georgia shares our concerns about Russia's actions in Ukraine, and that will, of course, be at the top of his [Hagel's] agenda during that visit," the Pentagon spokesperson said on August 29.
Hagel met Georgian Defense Minister Irakli Alasania twice at the Pentagon since August, 2013.