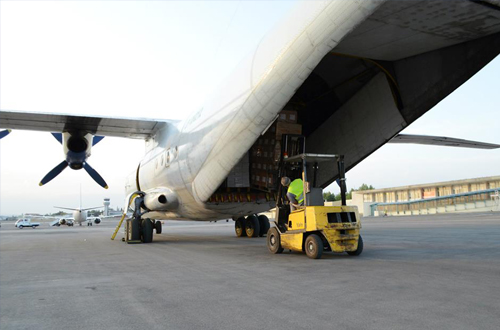 A cargo plane being loaded with humanitarian aid for Ukraine in Tbilisi airport, September 12, 2014. Photo: Georgian ministry of healthcare
A cargo plane took off from the Tbilisi airport on Thursday evening, delivering 12 tons of humanitarian aid, mainly medical supplies, to Ukraine.
The aid, worth of about GEL 1 million (USD 570.000), was agreed when Georgian healthcare minister, Davit Sergeenko, visited Kiev in late August.
The aid includes first aid and surgical kits, medical supplies, diabetes medicines, antibiotics and children vaccines, according to the Georgian healthcare ministry.
"We keep in touch with our Ukrainian colleagues and we can send more medicines and medical supplies if requested [by the Ukrainian side] or send our doctors and bring their patients to Georgia for treatment," Sergeenko told journalists in Tbilisi airport, where he attended loading of cargo together with Ukrainian ambassador to Georgia.
"We are grateful to the Georgian government and PM Irakli Garibashvili," said Ukrainian ambassador Vasyl Tsybenko. "This is yet another clear confirmation that our two people, two countries stand together in good times and in bad times."