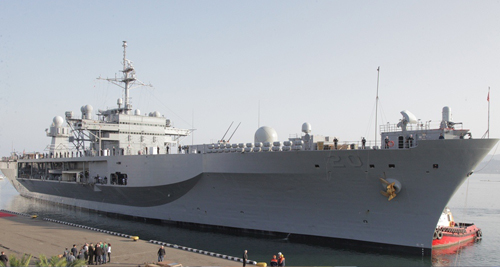 The amphibious command ship USS Mount Whitney (LCC/JCC 20) in port of Batumi, October 14, 2014.
USS Mount Whitney, flagship for the Europe-headquartered U.S. 6th Fleet, docked into Georgia's Black Sea port of Batumi on October 14, where it will stay till October 18.
"Mount Whitney's visit reaffirms the United States' commitment to strengthening ties with NATO allies and partners like Georgia, while working toward mutual goals of promoting peace and stability in the Black Sea region," the U.S. embassy in Tbilisi said.
It is the third port visit to Georgia by the USS Mount Whitney, the U.S. 6th Fleet's amphibious command and control ship. It delivered humanitarian aid to the port of Poti in early September 2008, less than a month after Georgia-Russia war; at the time Russian military forces were still maintaining two outposts in the outskirts of Poti. The last time when Mount Whitney made port visit to Georgia was in November, 2013. Mount Whitney was previously in the Black Sea in February, 2014.
"While in Georgia, Mount Whitney will conduct routine combined training with the Georgian Coast Guard, provide ship tours, hold a public concert for the local community, and host a reception for local officials. Mount Whitney's port visit will build on previous U.S. Navy visits to Georgia that enhance the professional and personal relationships between the United States and its allies and regional partners," the U.S. embassy said. "The U.S. Navy routinely operates ships in the Black Sea consistent with the Montreux Convention and International Law."