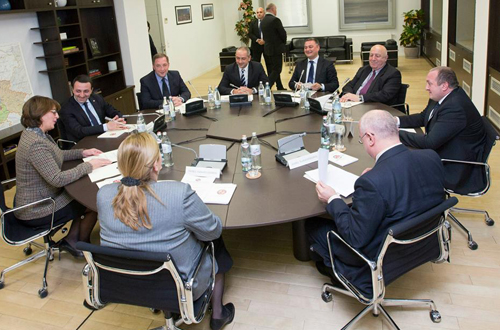 National Security Council meeting in the presidential palace, October 28, 2014. Photo: President's press office
National Security Council, chaired by President Giorgi Margvelashvili, held a meeting on Tuesday evening to discuss Russia-proposed treaty with Abkhazia, which Tbilisi has condemned as an "attempt to annex" the breakaway region.
PM Irakli Garibashvili attended the meeting, which was held in the presidential palace.
Previous session of NSC, which was the first one held under President Margvelashvili's chairmanship, was snubbed by PM Garibashvili in August.
After the meeting the President and the PM made a joint appearance before journalists.
President Margvelashvili said that discussions focused on how Georgia should "respond to a very difficult situation" involving Moscow's intention to sign new treaty with Sokhumi.
"We have discussed our actions, analyzed threats that Georgia faces and steps that will be taken by the government, the president and the parliament in coordination between each other," Margvelashvili said.
"We had a very good discussion and agreed to continue coordinated work. We demonstrated today that we are capable of working together," PM Garibashvili said. "There are no issues between us on which we cannot agree. These are such issues on which we, the government, the president, the parliament, have and will have unanimity."

Defense Minister Irakli Alasania, Interior Minister Alexander Tchikaidze and Finance Minister Nodar Khaduri, who are among permanent members of the NSC, were absent as they are not in Georgia. Last week some government members, among them foreign minister and defense minister, have suggested to postpone the meeting of NSC, triggering speculation that the PM and the government were searching for pretexts to snub the NSC convened by the President. Because of the planned NSC meeting, the President canceled his visit to Belgium for the events commemorating centenary of the World War I – the parliament speaker Davit Usupashvili is now visiting Belgium instead of the President.
"The government is concerned over expected signing of so called treaty on 'alliance and integration' between Abkhazia and the Russian Federation," PM's office said in a statement a day before the NSC session. "The Prime Minister together with government members is ready to participate in a meeting of any format dedicated to discussion of issues important for the country."
State Minister for Reconciliation and Civic Equality Paata Zakareishvili; State Minister for Euro-Atlantic and European Integration Alexi Petriashvili; Foreign Minister Maia Panjikidze; secretary of NSC Irina Imerlishvili, as well as Georgian Dream lawmakers Tedo Japaridze, chairman of foreign affairs committee; Irakli Sesiashvili, chairman of defense and security committee, and Victor Dolidze, chairman of European integration committee, also participated in the NSC session.
Foreign Minister, Maia Panjikidze, said after the meeting that she briefed the NSC about efforts to "consolidate" international community amid challenges and threats posed by Russia-proposed new treaty with Abkhazia.