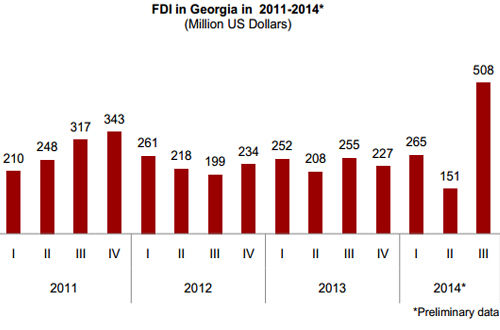 Georgia's quarterly FDI figures in million U.S. dollars in 2011-2014. Source: Geostat
Foreign direct investment in the third quarter of 2014 almost doubled compared to the same period of last year, reaching USD 508 million, the biggest inflow in a single quarter in last six years, according to preliminary figures released by the state statistics agency, Geostat, on Tuesday.
Third quarter FDI hike pushed net inflow in the first nine months of 2014 to USD 924 million, a 29.2% y/y increase, according to Geostat.
Inflow from China contributed to over 29%, or USD 149 million, to the third quarter FDI, followed by Azerbaijan with USD 95 million and companies registered in the Netherlands – USD 90 million; Panama – USD 44 million; Malta – USD 34 million and UK – USD 27 million.
There was USD 26 million FDI from the United States; USD 20 million from Turkey and USD 16 million from Russia, according to Geostat.
Construction sector received the largest share of FDI in the third quarter of 2014 – USD 181 million, followed by transport and communication – USD 109 million; real estate – USD 61 million; manufacturing – USD 48 million; financial sector – USD 38 million; energy sector – USD 36 million; hotels and restaurants – USD 10 million; agriculture and mining – USD 8 million each.