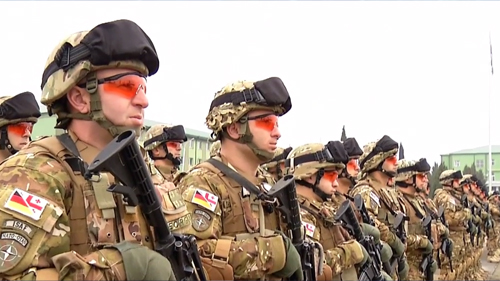 Georgian soldiers from the reconnaissance company of the fourth mechanized brigade stand in formation during the departure ceremony at the Vaziani military base outside Tbilisi, December 16, 2014.
A reconnaissance company from the fourth mechanized brigade of the Georgian armed forces is heading to northern Afghanistan to serve under the German command as part of NATO-led new mission Resolute Support.
The Georgian company of about 170 soldiers will assume the task of rapid reaction force at German army's Camp Marmal near Mazar-i-Sharif.
The company underwent pre-deployment training at the Wildflecken military base in Germany.
Speaking at a farewell ceremony held for the soldiers at the Vaziani military base outside Tbilisi on December 16, Georgian Defense Minister Mindia Janelidze said that Georgia's continued commitment to NATO-led mission in Afghanistan contributes to Georgia's NATO aspirations and to increasing Georgian armed forces' compatibility with the alliance.
Georgia has committed about 750 troops to Resolute Support mission in Afghanistan.
About the same number of Georgian troops are currently stationed as part of ISAF mission, down from its pick when Georgia had about 1,600 troops in Afghanistan.
Georgia's 51st light infantry battalion took over the force protection of Bagram Air Field in the Parwan province on November 1, 2014.
One battalion will remain at the Bagram Air Field under the U.S. command as part of the Resolute Support mission.
In July, 2014 Georgian troops ended their four-year long deployment in Afghanistan's southern province of Helmand.
Death toll of the Georgian soldiers in the ISAF mission is 29 – all killed in action in the Helmand province.
Over 435 Georgian soldiers have been wounded. In the most recent incident three servicemen from the 51st light infantry battalion were wounded in a suicide attack last month while they were on patrol in the Parwan province.