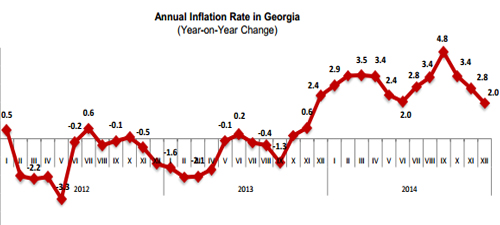 Annual inflation between 2012 and 2014. Source: Geostat
Annual inflation stood at 2% in December, down from 2.8% in November, according to figures released by the state statistics office, Geostat, on January 5.
On monthly basis inflation was 0.7% in December, according to Geostat.
Annual inflation in healthcare was among the highest across all groups of goods and services in December at 6%, mainly attributed to rising prices on medical products, appliances and equipment, according to Geostat.
Prices on food and non-alcoholic beverages rose by 2.5% year-on-year in December. There was 1.6% y/y decline in prices in transport group and prices on clothing and footwear dipped by 5.5% y/y in December.