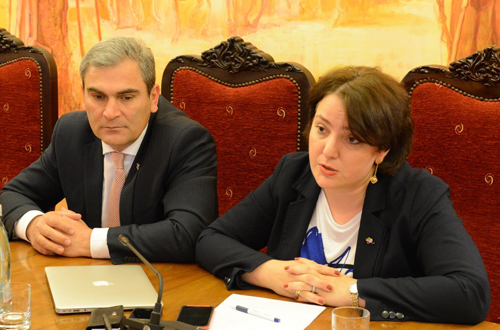 MP Gigla Agulashvili (left), nominee for minister of environment, and MP Tina Khidasheli (right), nominee for defense minister, seen on this April 23, 2015 photo in the Parliament in Tbilisi. Photo: Georgian Parliament
PM Irakli Garibashvili has named MP Tina Khidasheli as new defense minister, replacing Mindia Janelidze.
In other changes in the cabinet, which has to face parliament's confidence vote, MP Gigla Agulashvili, chairman of the parliamentary committee for agriculture, was named as minister of environment and natural resources protection.
Both Khidasheli and Agulashvili are members of the Republican Party, part of the Georgian Dream ruling coalition.
Tariel Khechikashvili, co-owner of one of Georgia's largest auto trader Iberia Business Group and founder of a football club Saburtalo, has been named as minister of sport and youth affairs.
Tina Khidasheli is set to become Georgia's first ever female defense minister.
MP Khidasheli, who is chairperson of the parliamentary committee on European integration and wife of parliament speaker Davit Usupashvili, was elected in the Parliament as a majoritarian MP from Sagarejo single-mandate constituency in the Kakheti region.
Her appointment as new defense minister will mean that by-election has to be held in October in Sagarejo constituency to fill a vacant seat in the Parliament.
If the proposed cabinet is confirmed, it will also mean that that the reshuffled government will have three ministers from the Republican Party – along with Khidasheli and Agulashvili, incumbent state minister of reconciliation and civic equality Paata Zakareishvili is also a Republican Party member.
When media reports about MP Khidasheli's possible nomination first emerged on Thursday evening it came as a surprise because a day earlier incumbent PM Garibashvili was ruling out any major reshuffle in the cabinet and was saying that he was going to change only those two government members – ministers of sport and environment – who filed resignation this week. Originally he was planning to announce nominations on Thursday, but it was rescheduled for Friday.
When making announcement about reshuffled cabinet on Friday morning, PM Garibashvili did not specify reasons behind the decision to replace incumbent defense minister Mindia Janelidze, who took the post in November, 2014 after then defense minister Irakli Alasania, leader the Free Democrats party, was sacked.
"As you know we are a coalition government and naturally I had consultations within the coalition and I took the decision in agreement with the coalition to carry out one more change in the government and to name Tina Khidasheli as the defense minister," Garibashvili said.
He said that incumbent defense minister Janelidze will return to his previous post of secretary of security and crisis management council at the PM's office. Janelidze held this post before becoming the defense minister in November.
"All these changes are aimed at increasing efficiency of the government," Garibashvili said.
He also called on the President and the Parliament to "maximally speed up" process of confidence vote.
The President has seven days to present nominated reshuffled cabinet to the Parliament for confirmation. Under the constitution the President has no right to change or block nominated cabinet members.
Other ministers remain unchanged in the reshuffled cabinet:
Energy Minister and deputy PM – Kakha Kaladze;
Minister of Economy and Sustainable Development and deputy PM – Giorgi Kvirikashvili;
Minister of Finance – Nodar Khaduri;
Minister for Labor, Healthcare and Social Affairs – Davit Sergeenko;
Minister of Justice – Tea Tsulukiani;
Minister of Internal Affairs – Vakhtang Gomelauri;
Minister of Foreign Affairs – Tamar Beruchashvili;
Minister of Infrastructure and Regional Development – Nodar Javakhishvili (appointed last week);
Minister of Agriculture – Otar Danelia;
Minister of Culture – Mikheil Giorgadze;
Minister for IDPs – Sozar Subari;
Minister of penitentiary system – Giorgi Mgebrishvili;
Education Minister – Tamar Sanikidze;
State Minister for European and Euro-Atlantic Integration – Davit Bakradze;
State Minister for Diaspora – Gela Dumbadze
State Minister for Reintegration – Paata Zakareishvili;
To win the confidence vote, the cabinet, led by incumbent PM Irakli Garibashvili, will need support of at least 75 MPs (there are currently 149 members in the Parliament as one seat remains vacant);
If the cabinet fails to win confidence vote, a repeat vote should be held within 30 days after the reshuffled cabinet was submitted to the Parliament for confirmation.
If the cabinet fails to win confidence vote with second attempt, the President has the right to nominate within 7 days, a prime ministerial candidate named by a group of at least 60 lawmakers. If another, separate group of at least 60 lawmakers also names its own prime ministerial candidate and there are two candidates named by two separate groups, the President has to nominate the one named by the group uniting more lawmakers; if in two groups there are equal number of MPs, it will be up to the President to pick the one nomination.
If the nominated prime ministerial candidate again fails to win the confidence vote, the President will dissolve the Parliament and call early parliamentary elections.
GD ruling coalition holds 87 seats in the Parliament; UNM – 50; Free Democrats opposition party – 8, and 4 seats are held by independent lawmakers.
GD parliamentary majority group consists of seven factions. The largest one with 46 MPs is Georgian Dream-Democratic Georgia, party founded by ex-PM Bidzina Ivanishvili and now chaired by PM Irakli Garibashvili; GD-Republicans faction has 9 lawmakers; GD-Conservatives, GD-National Forum and GD-Industrialists factions have 6 members each; two other faction with six members in each are formed by formerly UNM majoritarian MPs. Two members of the GD parliamentary majority group are not united in any of the factions.