June 14 aerial footage from Sky Tech of some of the flood-hit areas in Tbilisi, showing Chabua Amirejibi highway, as well as Heroes' Square and the zoo.
Fatalities from flooding in Tbilisi increased to 19 people as of Tuesday evening, according to the State Security and Crisis Management Council.
Bodies of a young woman and a man were recovered from flooded Mziuri Park on June 16 and third body was found there later on the same day.
6 people remain missing, according to the State security and Crisis Management Council.

Meanwhile, the Parliament convened for a special session in Kutaisi on June 16 and approved unanimously presidential decrees authorizing use of the armed forces in the flood relief efforts.
Heroes Square and right embankment of the Mtkvari river was reopened for traffic early on June 16.
Chabua Amirejibi highway, which was heavily damaged by the flooding, remains closed and it is not yet clear how long it will take to restore the road. The authorities are calling on the people to refrain from using cars.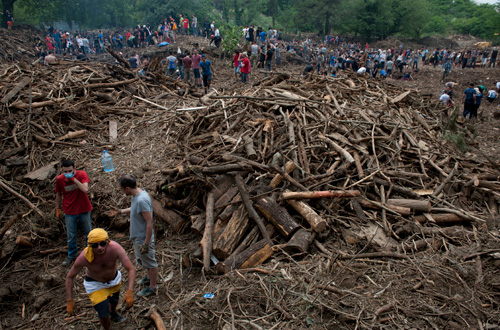 Volunteers clean up flooded Mziuri Park from debris, June 16, 2015. Photo: Eana Korbezashvili
Bodies of two men were found in the Mziuri Park on June 15 and a man's body was recovered from a flooded house on the Svanidze street in the Vake district on the same day.
The Svanidze street in the Vake district was among the worst hit areas, where five people died.
Four people died in the flooded Tbilisi zoo, three of them employees of the zoo.