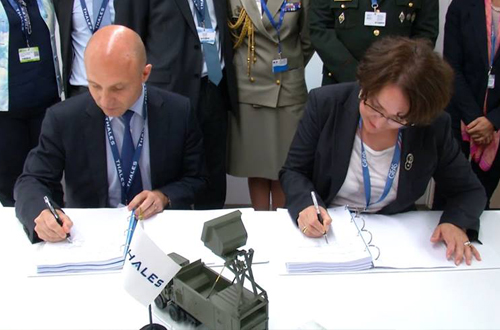 ThalesRaytheonSystems CEO for French operations Jérôme Bendell (left) and Georgia's Defense Minister Tina Khidasheli (right), Paris, June 15, 2015. Photo: Georgian MoD
Georgia has signed an agreement in France on procurement of an "advanced" system that will "guarantee country's air defense" and another deal is being prepared for signing on arms purchase, Defense Minister Tina Khidasheli said on June 15.
Information is very scarce about the deal which became a source of political accusations between ex-defense minister Irakli Alasania's Free Democrats party and the government two months ago.
Officials refuse to discuss details of the agreement, citing confidentiality of security related matters.
The Ministry of Defense has released neither type of the system the country is buying nor its price.
It has not even named the company with which the deal was signed by Defense Minister Tina Khidasheli on the sideline of the Paris Air Show on June 15.
MoD, however, released a brief video of the signing from which it is possible to understand that the agreement was penned with ThalesRaytheonSystems (TRS), a joint venture of the French defence electronics group Thales and U.S. arms maker Raytheon.
TRS produces a range of ground-based surveillance radars, air defense command and control systems, as well as offers cyber capabilities.
Company's CEO for French operations, Jérôme Bendell, signed the agreement on behalf of TRS.
A small replica of what appeared to be TRS-produced GM 200 medium range multi missions radar was seen on a table while the Georgian Defense Minister and company CEO were signing the agreement. It, however, is not clear whether the contract is about procuring this very system.
MoD-released video also shows Khidasheli observing SkyView, TRS-produced air defense command and control solution, at the Paris Air Show.
It is possible that the agreement is part of a broader defense procurement deal.
Defense Minister Khidasheli told the Georgian public broadcaster without elaborating details that she would be traveling back to France in "few weeks" to sign another agreement.
"I cannot speak about the details of the agreement we signed today [June 15]. Information about such type of procurements, weapon should be top state secret, otherwise we can now continue our conversation in Russian and they will not even need to spend money on translation to learn information about this agreement," Khidasheli said while speaking with the Georgian public broadcaster from Paris on Monday evening.
"When the [procurement] is finalized and this weapon [system] is delivered to Georgia, we will have a capacity for the first time, which will guarantee our air defense," she said.
"We can say that our air space will be maximally protected. Georgia is buying a type of the weapon, which is in use by the leading NATO-member states and is regarded to be one of the most advanced air defense infrastructure," Khidasheli said.
"This is just the beginning and the first step. We are not going to end the process with it; our government has much bigger plans and very soon you will learn about another agreement, which I hope we will sign in France very soon."
"We'll be back in Paris in few weeks and sign one more important agreement," Khidasheli said, refusing to discuss details of the planned new deal.
She said that "for various reasons" there was reluctance among the Western partners to go into such deals with Georgia's previous authorities. "But now this window of opportunity has opened," Khidasheli said. "It shows confidence towards the current authorities of Georgia."
Also on June 15 Khidasheli met in Paris with her French counterpart Jean-Yves Le Drian.
"I had a very good meeting with the French defense minister. We spoke on many issues, including on arms purchase," Khidasheli said.
Khidasheli is Georgia's third defense minister with whom Jean-Yves Le Drian met over the past year and a half. He met the then defense minister Irakli Alasania three times – in November, 2013; August, 2014 and October, 2014. He also met Alasania's successor on the post Mindia Janelidze in March, 2015.
Khidasheli thanked both of her predecessors – Alasania and Janelidze – for making the agreement possible.
She also said that the terms of this agreement are "maximally beneficial" for Georgia and thanked the French side for cooperation.
In early April, Alasania claimed the government abandoned preliminary deal – a non-binding memorandum of understanding, which he negotiated in France in late October, shortly before being sacked from the cabinet, and which would have paved the way to purchasing of much-needed air defense system. The allegation was strongly denied at the time by then defense minister Mindia Janelidze, who is now secretary of the State Security and Crisis Management Council.
"I do not understand why this issue turned into a political one," Khidasheli said. "This issue is now over; the contract is finalized."