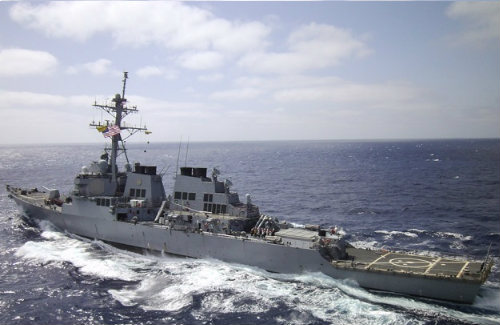 Photo of the USS Laboon taken from its
website
.
The U.S. guided-missile destroyer, Laboon (DDG-58), from the 6th Fleet is making a port visit in Batumi on June 27-29.
While in Georgia's Black Sea port, the USS Laboon will "conduct routine combined training with the Georgian Coast Guard and provide ship and press tours," the U.S. embassy in Tbilisi said.

"The Laboon's visit reaffirms the United States' commitment to strengthening ties with NATO allies and partners like Georgia, while working toward mutual goals of promoting security and stability in the Black Sea region," it said.
Georgian Defense Minister, Tina Khidasheli, who visited the USS Laboon in Batumi tweeted:
"The Laboon's port visit will further build on previous U.S. Navy visits to Georgia that enhance the professional partnerships and personal relationships between the United States and its allied and partner nations," the U.S. embassy said.
Christopher M. McCallum, commanding officer of the USS Laboon, said that the warship has been in the Black Sea "for about a week operating with our partners in the area and we look forward to working ashore now with our Georgian partners."