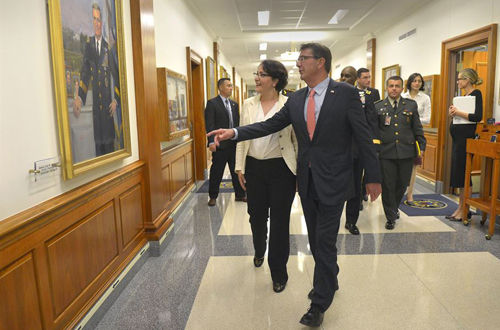 U.S. Defense Secretary Ash Carter welcomes Georgian Defense Minister Tinatin Khidasheli to the Pentagon, Aug. 18, 2015, while showing her the portrait of U.S. Army Gen. John M. Shalikashvili, former chairman of the Joint Chiefs of Staff. Born in Warsaw, Poland, to Georgian parents, Shalikashvili served as the chairman from 1993 to 1997. DoD Photo by Glenn Fawcett
U.S Secretary of Defense Ash Carter met Georgia Minister of Defense Tina Khidasheli on August 18 and discussed "regional security issues and the U.S.-Georgia defense relationship," the Pentagon said.
Khidasheli, who is on her first trip to the United States in her capacity of the defense minister, is accompanied by Chief of the General Staff of the Georgian Armed Forces Maj. Gen. Vakhtang Kapanadze.
During the meeting at the Pentagon Secretary Carter "commended Minister Khidasheli for Georgia's ongoing commitment to Afghanistan as the second largest overall troop contributor to the NATO Resolute Support Mission," the Pentagon readout of the meeting said.
It also said that Secretary Carter "emphasized that the United States, together with our allies, remain committed to supporting Georgia through the NATO-Georgia Commission and the Substantial NATO-Georgia package agreed at the 2014 Wales Summit."
"The leaders reviewed ongoing U.S. security assistance to Georgia's armed forces, including plans for the $20 million in additional funding in 2015 through the European Reassurance Initiative."
"Secretary Carter also reaffirmed the United States' commitment to continuing defense cooperation with Georgia, including through annual bilateral and multilateral exercises and training," the Pentagon said.
The Georgian Defense Minister said that it was "a very friendly meeting."
"It is important that partnership is not just formal, but also friendly," she said. "Bilateral partnership and friendship will gain even stronger basis during Ash Carter's tenure as [Defense] Secretary."
"More U.S. troops in Georgia, more support to the Georgian army and to the Georgian defense and security in order to be ready for all the challenges that exist in our region – that's the main pledge of this partnership, and every day can bring more progress and results in this regard," Khidasheli said.
On August 17 the Georgian Defense Minister met with Deputy Assistance Secretary of Defense for Warrior Care Policy James Rodriguez. The Georgian MoD has recently created a new department, which is in charge of overseeing recovery, rehabilitation and reintegration of wounded and injured army service members. 274 Georgian soldiers were wounded in Afghanistan in a period between 2010 and late-April, 2015.
In Washington Khidasheli has also met Assistant Secretary of State for European and Eurasian Affairs Victoria Nuland and Assistant Secretary of State for Political-Military Affairs Puneet Talwar.