Kvirikashvili, who was economy minister, takes FM's post;
PM: goal of economic development 'determines our foreign policy';
PM: 'European path will of course continue and strengthen';
New FM: 'special focus will be made on economic relations';
New FM: 'European and Euro-Atlantic integration priority';
'But along with pro-western direction, lots of other interesting developments are taking place in the world';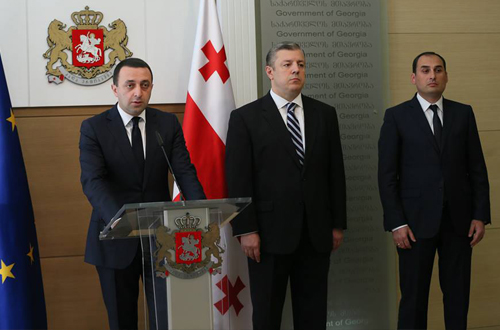 PM Irakli Garibashvili (left) announcing about appointment of Giorgi Kvirikashvili (center), who was economy minister, as new Foreign Minister, and deputy mayor of Tbilisi Dimitri Kumsishvili (right) as new Economy Minister, September 1, 2015. Photo: PM's office
Giorgi Kvirikashvili, who held Economy Minister's post since late 2012, has been appointed as new Foreign Minister, replacing Tamar Beruchashvili.
Kvirikashvili will retain his position of Deputy PM, said PM Irakli Garibashvili while announcing about the cabinet reshuffle on September 1.
Dimitri Kumsishvili, deputy mayor of Tbilisi, has been appointed as new Economy Minister, replacing Kvirikashvili. Before becoming deputy mayor in March, Kumsishvili served as Deputy Economy Minister.
"The government's focus is on economic development and job creation and this goal determines our foreign policy and internal economic agenda," PM Garibashvili said when speaking about appointing Kvirikashvili as new Foreign Minister.
"Therefore, consolidation of these two sectors is very important at this stage," he added.
"I think that Mr. Kvirikashvili will be a very successful Foreign Minister; his experience and knowledge will help us in carrying out such a foreign policy, which will be even more linked to our economic priorities and bring more success to our country in terms of foreign policy, as well as in terms of strengthening of economy policy. I am sure Mr. Kvirikashvili will tackle these functions efficiently," PM Garibashvili said.
He also said that Georgia has "a clear European choice" and "this path will of course continue and strengthen."
"We already have very serious results in this regard, which need stable development," Garibashvili added.

The PM thanked former Foreign Minister Tamar Beruchashvili for her service and added: "I want the new minister Giorgi Kvirikashvili to decide where Tamar Beruchashvili will continue to work."
Kvirikashvili, who has little foreign policy background, said: "Georgia's agenda of European and Euro-Atlantic integration will be the main priority."
"A special focus will be made on economic relations in order to translate those excellent political relations, which Georgia has with the West, into the same level of economic relations – this will be the number one priority," the new Foreign Minister said.
"But along with the pro-western direction, lots of other interesting developments are taking place in the world, including of course in respect of relations with the east, new processes on the Eurasian continent," Kvirikashvili said.
Kvirikashvili, who has spent most of his career in financial and banking sectors before becoming Economy Minister in late October 2012, was a member of Parliament in 1999-2004 with the New Rights Party; he was deputy chair of the parliamentary committee on economic policy.
Kvirikashvili was director general of ex-PM Bidzina Ivanishvili's Cartu Bank in 2006-2011.
He is Georgia's third Foreign Minister since the Georgian Dream ruling coalition came into government in late 2012.
An annual gathering of Georgian diplomats will be held in Tbilisi on September 2-4 and PM Garibashvili said that he would present the new Foreign Minister to the Georgian diplomats at this ambassadorial meeting.
Kvirikashvili's successor on the Economy Minister's post Dimitri Kumsishvili, who was deputy mayor Tbilisi since March, stressed on "importance of continuity of existing economic course."
Kumsishvili was deputy general director of Ivanishvili's Cartu Bank in 1999-2011.
These new appointments in the government do not require approval from the Parliament. Confidence vote from the legislative body is only needed when more than one-third of 20-member cabinet is changed.
PM Garibashvili said that this recent "will further increase efficiency of our government."