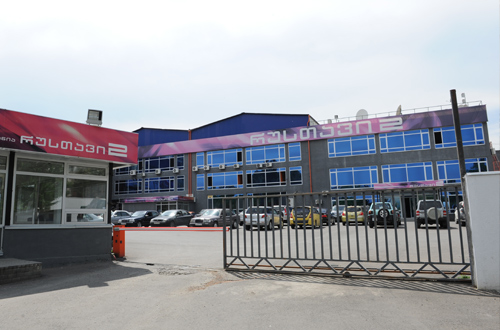 File photo of headquarters of Rustavi 2 TV in Tbilisi. Photo: Eana Korbezashvili/Civil.ge
The United States has expressed concerns to the Georgian government over actions that give the appearance of constricting media freedom, Ian Kelly, the U.S. ambassador in Tbilisi, said in a statement on Thursday.
The statement was released after the U.S. diplomat met on October 8 with Rustavi 2 TV executives to, as he put it, "learn more about the legal case affecting the station's financial health."
The meeting came after the U.S. Department of States said on October 6 that actions that give the appearance of constricting media freedom are "disturbing."
The U.S. diplomat said that he assured Rustavi 2 TV leadership that the U.S. embassy "is closely following" developments related to the broadcaster.
Rustavi 2 TV says that the recent court injunction in an ongoing dispute over Georgia's most-watched broadcaster, has effectively cut off a USD 6 million investment needed for sustaining its smooth operations. Rustavi 2 TV claims that a lawsuit by one of its former co-owners and consequent asset freeze – ordered by the court at first in respect of Rustavi 2 TV itself and then in respect of broadcaster's majority shareholder company – is government orchestrated move aimed at taking over the opposition-minded television station. The government and Georgian Dream ruling coalition politicians deny any involvement, saying that the dispute is between the private entities.
"The United States government has often praised Georgia's open media environment, which has been recognized internationally as a model for the region," the U.S. ambassador said in the statement.
"We take very seriously any actions that give the appearance of constricting media freedoms or compromising media pluralism. We have expressed our concerns to the Georgian government."
"For any democracy to succeed, a strong, accountable government is important. Media pluralism is no less important. As the drafters of America's Constitution suggested in another age, government's first object is the protection of our liberty, which depends on free, unfettered, and pluralistic media," the U.S. ambassador said.
Nika Gvaramia, Rustavi 2 TV CEO, who met the U.S. ambassador, welcomed diplomat's reaction and said that the ambassador's In his statement "addresses the government and no one else, because this case is in fact driven by the government, orchestrated by the government and the judge [adjudicated court case over ownership dispute] represents the government."
"Before it still has time to save face, it is better for the government to heed the statement of the most important ally of this country," said Gvaramia, who held senior government posts till late 2009 in ex-President Mikheil Saakashvili's administration.