Energy Minister, Kakha Kaladze, said on October 20 that Georgia will have to buy gas from Gazprom on top of what the country is already receiving from Russia as a transit fee, claiming that "there is no possibility" to import additional volumes from Azerbaijan.
He said that additional gas will be required to fill the gap amid increasing gas consumption in Georgia, which, he said, is expected to reach 2.5 billion cubic meters in 2015, a 27% increase since 2012.
Since October 9, when Kaladze said that Georgia is open to negotiations with Gazprom on supply of gas in addition to what the country is already receiving from the Russia's state-controlled energy giant for transiting Russian gas to Armenia, the government came under fierce criticism from the opposition groups, among them UNM and Free Democrats parties. President Giorgi Margvelashvili has asked the government to hold a session to discuss "energy security" issues with his participation. It is not clear yet when, if at all, such government session will be held.
On October 20, Kaladze, who met Gazprom chief executive Alexei Miller in Brussels in late September, convened a news conference to present what he said was a breakdown of Georgian natural gas imports per year and per source of supply between 2003 and 2014, showing that Georgia was buying additional gas from Gazprom in previous years too, including when UNM party was in power.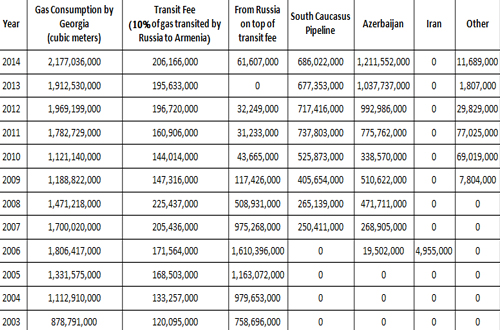 Breakdown of Georgian natural gas imports per year and per source of supply between 2003 and 2014. Source: Georgian Energy Ministry
According to these figures, share of additional Russian gas in Georgia's total gas consumption declined from 9.8% in 2009 to 1.6% in 2012; no additional gas was imported from Russia in 2013 and its share stood at 2.8% in 2014.
"Even after the war Georgia was receiving additional gas supplies from Russia on top of the transit fee, but for some reasons no one speaks about it now. Election year is approaching and politically bankrupt parties and politicians are trying to remind about themselves to the voters," said Kaladze, who is one of the leaders of the Georgian Dream-Democratic Georgia party.

"These are the facts and figures… which show that nothing out of ordinary is going on now," he said pointing at gas supply stats. These relations [with Gazprom] have been ongoing for years already and will probably continue in the future as well," he added.
Azerbaijan is Georgia's main source of gas supply from where the country received about 87.1% of its total consumption of 2.17 billion cubic meters of gas in 2014. About 686 million cubic meters of Azerbaijani gas came as part of the deal in frames of the BP-operated South Caucasus Pipeline, which transports gas from Shah Deniz offshore field in the Caspian Sea to Turkey via Georgia. 1.21 billion cubic meters were imported as part of a separate contract with Azerbaijan.
Georgia received 267.7 million cubic meters of gas from Russia in 2014 of which 206.1 million was a transit fee. As a fee Georgia gets 10% of Russian gas transited to Armenia through North-South Pipeline. In addition, Georgia imported 61.6 million cubic meters of Russian gas in 2014.
Energy Minister, Kakha Kaladze, who is also the deputy PM, said on October 20 that at the meeting with Gazprom chief executive in Brussels in late September he discussed two issues – one related to possible increase of transit of Russian gas to Armenia via Georgia and another one related to buying additional gas from Gazprom.
"Negotiations about transit are of a routine nature and they usually start in August of every year as the agreement should be signed by December," Kaladze said.

He said that Armenia is willing to increase gas import from Russia, which means that Georgia will have to get more transit fee and "that was one of the issues" discussed at the meeting with the Gazprom CEO.
Another issue, he said, was possible gas supply to corporate clients in Georgia if the price is acceptable. He said it's not up to him to either comment or decide about possible volumes or price. "It's up to companies to decide," Kaladze said, adding that no details have yet been discussed with the Gazprom.
Kaladze said that because of increasing consumption in Georgia, the country "may face certain problems till 2019 before the second phase of Shah Deniz project becomes operational."
"There is no possibility to buy additional gas from Azerbaijan. If there was such a possibility then why were we buying additional volumes of gas from Russia, on top of what we were receiving as a transit fee, in previous years, including when [UNM] was in government?" he said.
UNM lawmakers dismissed Kaladze's claims as a "lie." MP Giorgi Gabashvili condemned government's intention to increase Russia's share in Georgia's gas supplies as a "traitorous step" that would be a blow for country's energy security.
In an interview with the Azerbaijani news agency, Trend, chief executive of Azerbaijani state energy company SOCAR's Georgian subsidiary, Mahir Mammadov, said on October 9 that possible increase of Russian gas supplies in Georgia will increase the competition. "We are ready to compete," he said.