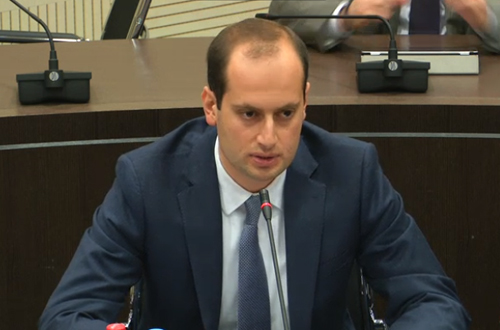 Mikheil Janelidze, candidate for foreign minister, speaks at a joint session of parliamentary committees for foreign affairs, European integration and diaspora issues, December 28, 2015.
Mikheil Janelidze, who is nominated as new Foreign Minister, said Georgia will continue its European and Euro-Atlantic integration process and keep on pursuing "pragmatic and balanced policy" towards Russia.
Janelidze, who is now First Deputy Foreign Minister, was nominated by PM-designate Giorgi Kvirikashvili as his replacement on the post of the Foreign Minister. Kvirikashvili said that he plans no other changes in the cabinet for now, but did not rule out reshuffle in the near future.
Janelidze, 34, who is set to become Georgia's fourth Foreign Minister since the Georgian Dream ruling coalition came into government in late 2012, said during a joint hearing of several parliamentary committees in Kutaisi on December 28, that Georgia should "present its positive role for the entire region".
Janelidze became Deputy Economy Minister in November 2011, when UNM party was in power and retained the same position after the Georgian Dream came into government, serving as deputy to Giorgi Kvirikashvili before the latter held Economy Minister's post. After Kvirikashvili became the Foreign Minister, he appointed Janelidze as his first deputy in September, 2015.
"The progress made in respect of European and Euro-Atlantic integration will bring tangible results to the people," Janelidze said, adding that "it will remain one of our key priorities."
He said that strengthening of Georgia's strategic partnership with the United States in all four areas envisaged by the U.S.-Georgia Strategic Charter, involving defense and security, democracy, trade and economic ties and people-to-people contacts, will also be among the priorities.
"Our main approach will be to foster regional economic and energy projects in order to make our region economically more attractive, which will to some extent also result into prevention of security problems," he told lawmakers at a joint session of several parliamentary committees, held as part of ongoing confirmation hearings for the cabinet, led by Kvirikashvili.
On relations with Russia, Janelidze said that "our approach, pursued in recent years and involving policy of de-escalation, will continue."
"But it will in no way be at the expense of our sovereignty, territorial integrity and national interests," he said.

"Pragmatic and balanced policy, which has been carried out, is very important and will continue. Conflict resolution issues will continue through our constructive participation in frames of the Geneva international talks," he said, referring to format, which was launched after the August, 2008 war.
Janelidze, who served as head of foreign trade and international economic relations department at the Economy Ministry in 2009-2011, graduated international relations from the Tbilisi State University, and holds masters in business administration from the Grenoble Graduate School of Business. He has also completed postgraduate studies in international law from the Russian Foreign Ministry's Diplomatic Academy. In 2011 he was awarded with the Order of Honor by then President Mikheil Saakashvili.

Janelidze also said at the parliamentary committee hearing, which was not attended by the opposition lawmakers, that the Foreign Ministry will pay more attention to "strengthening Georgia's positive image on the international arena."
"We will try to carry out more efficient foreign economic policy. We think that more popularization of Georgia's investment and business environment abroad is needed," he said, adding that creating "system of commercial representations" is being considered.
Janelidze said that Georgia's free trade agreement with the EU should be "maximally used in order to attract investments from Asia."
"We think that all the challenges can become opportunities. Georgia should maximally present its positive role for the entire region. We can do it through further deepening of our economic ties and through increasing our participation in the economic projects. We will offer our European integration as an additional opportunity for all the countries in the region and beyond," he said.
The Foreign Minister-designate said that Georgia has made "serious steps" in recent years towards deepening ties with China, noting importance of holding of the first Tbilisi Silk Road Forum this year, co-organized by the Chinese government and also supported by the U.S.
"That's precisely the kind of vision that presents Georgia positively in the region. We are not going to be anyone's competitor. We are going to make these opportunities acceptable and interesting for everyone. We think that very interesting results can be achieved through deepening economic relations with the Asian countries. We think that the key point here is to offer them Georgia as their partner in their cooperation with Europe and the role of our strategic partner – the United States – will be very important in this process," Janelidze said.