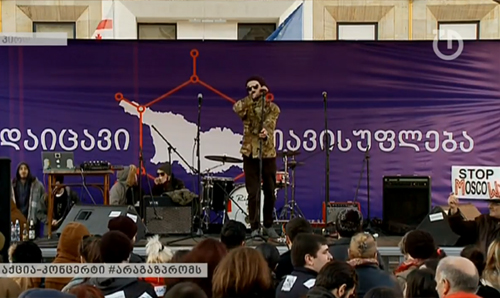 Screengrab from Tabula TV footage showing writer and musician Erekle Deisadze performing at "No to Gazprom" protest concert outside government headquarters in Tbilisi, January 16, 2016. Banner on the background reads "Defend Liberty."
Several Georgian music bands and musicians performed at an hour-long outdoor protest concert outside government headquarters in Tbilisi on January 16 against authorities' talks with Russian energy giant Gazprom.
The event, "No to Gazprom", was organized by a campaign group, Defend Liberty, uniting over dozen of civil society organizations, think tanks and media outlets, launched last autumn with the purpose to, as it put it, counter "Russia's aggressive propaganda campaign against the West in Georgia."
"We gathered here to defend our country… from our collaborationist government. We should tell very loudly to our government that we do not want Gazprom's gas, because this is a political weapon of the Kremlin," Nino Danelia, professor of journalism at the Tbilisi-based Ilia State University, told few hundred demonstrators at the rally before the concert.
According to the Georgian Energy Ministry it holds talks with Gazprom on terms of transit of Russian gas to Armenia via Georgia and on purchase of additional gas from Gazprom to fill the gap amid increasing gas consumption. Gazprom wants to pay cash as a transit fee instead of giving Georgia 10% of gas transported to Armenia. On top of transit fee, Georgia was also importing relatively small volumes of gas from Russia over the past five years, exception was 2013, according to Energy Ministry's data.
Talks with Gazprom over supply of additional gas volumes has become source of opposition's criticism of the authorities as opponents fear that it may lead to Georgia's energy dependence on Russia and affect negatively on ties with strategic partner Azerbaijan, which supplies about 87% of Georgia's annual gas needs.
Georgian Energy Minister Kakha Kaladze says that further increase of supplies from Azerbaijan is not possible because of "technical" reasons, especially during the winter period when gas consumption peaks in Georgia.
President of Azerbaijani state energy company SOCAR, Rovnag Abdullayev, visited Tbilisi and held talks with PM Giorgi Kvirikashvili and the Georgian Energy Minister on January 13. Chief executive of SOCAR's Georgian subsidiary, Mahir Mammadov, said after talks that "technical capacities of gas supplies, especially during peak period" and "how to fill the deficit" were discussed.
The Georgian Energy Minister said that "additional investments" will be required, specifically for a gas compressor station, in order to increase volume of gas supplied by SOCAR. Kaladze, however, also added that it will not be possible to complete these works this year, indicating that Georgia will require increasing supplies from Gazprom to offset the deficit.