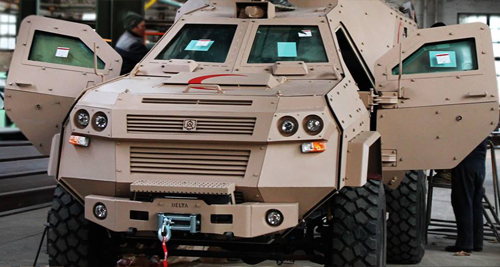 Armored medical evacuation vehicle manufactured by Delta. Photo: Delta
Georgia's state arms manufacturer, Delta, said it has won a contract to supply Saudi Arabia "more than 100" armored medical evacuation vehicles.
Delta, which was launched in 2010 and which operates under the Georgian Ministry of Defense, said on Tuesday that the contract is valued at "up to 100 million lari" (about USD 40 million as of January 26).
"First batch of 12 vehicles will be sent to Saudi Arabia on January 30," Delta said in a statement.
According to Delta, among other bidders in a tender announced by the Defense Ministry of Saudi Arabia in 2014, were Oshkosh Defense; Lenco Armored Vehicles; STREIT Group, and International Armored Group (IAG).
Delta said that its manufactured armored medical evacuation vehicle beat out Lenco BearCat in the final stage of the tender and the contract with Saudi Arabia was signed in December, 2015.
Delta's chief executive Ucha Dzodzuashvili said that the contract is the first of this kind and "a huge success" for the Georgian defense industry.
He said that Delta is now in "preliminary talks" on two other separate contracts with combined value of GEL 290 million.