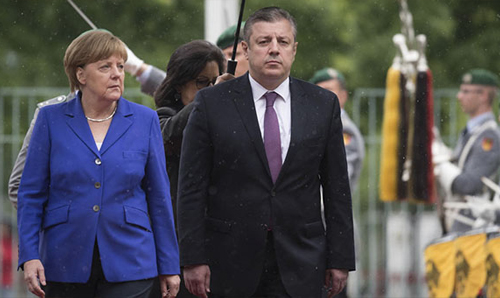 German Chancellor Angela Merkel and Georgian Prime Minister Giorgi Kvirikashvili review a guard of honor during a welcome ceremony in Berlin, June 15, 2016. Photo: Bundesregierung/Kugler
German Chancellor Angela Merkel said on June 15 she supports visa liberalisation for Georgia in the Schengen area to be concluded "quickly", but the EU should first put in place easier visa free suspension mechanism.
She, however, hinted that the EU visa waiver for Georgia could also be linked to visa liberalisation for Ukraine – a linkage, which many in Tbilisi believe may further delay the process for Georgia.
Georgia's hopes for finalizing visa liberalisation process this summer have waned after last-minute objection from Germany earlier this month.
Speaking at a joint news conference with PM Giorgi Kvirikashvili, who is paying a two-day official visit to Berlin, Merkel noted positive report of the European Commission in December 2015, which said that Georgia has met all the criteria required for the visa waiver.
"Germany will not oppose this recommendation from the [European] Commission," she said.
Merkel, however, said that she told the Georgian PM during a phone conversation last week and reiterated it once again at the meeting that visa liberalisation should be viewed in connection to suspension mechanism, which, she said, is not directly linked to Georgia.
The proposal to make it easier and faster for the EU members to suspend visa waiver with third countries if the visa free rules are abused, has been approved by the ministers from the EU member states late last month and is now awaiting a vote in the European Parliament, which will hold its last session before the summer break on July 4-7 and will reconvene on September 12.
Asked to specify when it will be possible to finalize Georgia's visa liberalisation, Merkel responded that it should not take a very long time.
When asked about Georgia's visa liberalisation in the context of Ukraine, which also seeks visa waiver for its citizens in the Schengen area, the German Chancellor made a connection between the two countries, but stopped short of saying that the two countries must proceed at the same pace.
"For me, it is significant that Association Agreements between the EU and Georgia and also with Ukraine were signed at the same time [in June, 2014]," Reuters reported quoting Merkel.
"It is not very easy to explain to one country how things are with another," she added. "However, I understand that each country wants to be treated on its own merits."
Reuters also reported, citing unnamed EU diplomats, that Ukraine has appealed to the European Union not to grant Georgia visa-free access first, for fear of weakening the standing in Kiev of the pro-western President Petro Poroshenko.
Asked at the same news conference if he was "disappointed" by Berlin's reluctance over the EU visa waiver and also over its objections to Georgia's NATO membership, Georgian PM Giorgi Kvirikashvili responded: "We consider our bilateral relations in much broader and long-term context."
"Our relations are not determined only by decisions that are being taken today; these decision should not either be viewed from the Georgian perspective only. We have to take into consideration context of both the regional and global politics," PM Kvirikashvili said.
"We have not been disappointed," he continued. "We think that the process in which we are now makes us even closer to Germany. Germany's role in Georgia's European integration and transformation process has become even more prominent."
"We believe that we will definitely reach mutual understanding in this process; Georgia will definitely get visa liberalisation; Georgia believes that it will definitely become a member of NATO and for that to happen Georgia has to be consistent in the process of transformation, to broaden its partnership with NATO and we believe that window of opportunity will open for Georgia when the international context is ready for that," the Georgian PM said.
"We are grateful to Germany for its comprehensive assistance it is providing our country for decades," he added.
Speaking specifically on visa liberalisation, PM Kvirikashvili said: "Since 2013 we have implemented a lot of reforms, strengthened our legislative and institutional capacities in order for Europe to feel safe when it comes to visa-free rules for Georgia. We have intensified cooperation between the interior ministries, signed relevant inter-state agreements, deployed police attaché in our embassy [in Berlin], and established close practical cooperation."
"I am accompanied here by the Interior Minister [Giorgi Mgebrishvili]; this is his second visit [to Germany] this year. The head of Germany's Federal Criminal Police visited Georgia in March. It proves high level of cooperation between our respective agencies, which has already yielded positive results," PM Kvirikashvili said in what appeared to be a reference to concerns, which have recently been raised in the German press about Georgian organized criminal groups operating in Germany.
Chancellor Merkel praised the Georgian authorities' cooperation with the German law enforcement agencies in the fight against crime.
On NATO-Georgia cooperation, Merkel said that a good solution was found in a form of substantial package of cooperation, which the Alliance approved at its summit in Wales in 2014. She added that it will be discussed at the NATO summit in Warsaw next month what additional possibilities can be made available for Georgia in frames of this substantial package.
Reiterating Germany's support to Georgia's territorial integrity, Merkel also welcomed Tbilisi's "pragmatic" policies in respect of Russia.
Also on June 15, the Georgian PM met Bundestag President Norbert Lammert, who met his Georgian counterpart Davit Usupashvili in Berlin on June 8.
During the visit the Georgian PM will also meet German Foreign Minister Frank-Walter Steinmeier.