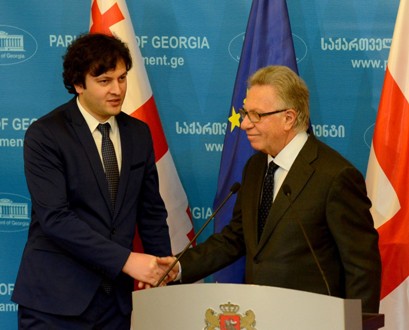 Parliamentary Chairman Irakli Kobakhidze and Venice Commission President Gianni Buquicchio. January 20, 2017. Photo: Parliament of Georgia
Gianni Buquicchio, President of the Venice Commission, is visiting Georgia on January 20 to discuss the ongoing constitutional reform process.

Buquicchio, who is accompanied by Secretary of the Commission Thomas Markert, met Georgian Parliamentary Chairman Irakli Kobakhidze, who simultaneously chairs the state constitutional commission established in December and tasked to table the constitutional amendments before April 30.

Speaking at a news briefing after the meeting, Kobakhidze said that they agreed cooperation plans in the reform implementation process. He also reiterated his earlier pledge that all recommendations of the Venice Commission "will be thoroughly discussed."

"The Parliament of Georgia will not adopt any norm, which will be assessed negatively by the Venice Commission from the legal point of view and this statement will definitely be fulfilled," he said.

Gianni Buquicchio welcomed this statement as "the first commitment at the international level" and emphasized "a common aim to improve the Georgian constitution and make it completely in conformity with European and international standards."

"Globally, [current constitution] is a good text, which is in conformity with the international standards, but it is the text that can be improved," the Venice Commission President said. "The Venice Commission, after the last revision in 2010, made some critical comments concerning some issues, which should be improved in the constitution. There was already the constitutional commission in the last parliament. Unfortunately, the commission did not succeed. Now, I think, it would be possible," Buquicchio stated.

Gianni Buquicchio also met President Giorgi Margvelashvili, whose administration boycotts the work of the state constitutional commission.

Along with the constitutional amendments, the sides also discussed the so called "third wave" of judicial reforms, which were endorsed in December and which have yet to be signed by the president. According to the presidential administration, deadline for signing the legislative amendments by Margvelashvili expires on January 25.

During the visit, the Venice Commission President will also meet representatives of the parliamentary minority and the Alliance of Patriots. At the end of his one-day visit, Gianni Buquicchio will meet Justice Minister Tea Tsulukiani.

Although not planned by the agenda, Buquicchio held a meeting with constitutional experts, heads of the Georgian Young Lawyers Association and the Transparency International Georgia, as well as the ex-Parliamentary Chairman Davit Usupashvili, who chaired the state constitutional commission during his tenure.