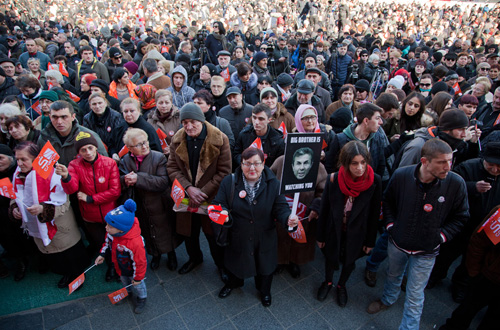 Protesters gather in support of Rustavi 2, February 19, 2017. Photo: Civil.ge/Guram Muradov
Thousands of citizens, opposition politicians and civic activists rallied on February 19 in support of Rustavi 2, Tbilisi-based television channel and demanded "fairness" and "justice" in an ongoing ownership dispute of the television channel, which many see as orchestrated by the government to silence the opposition-leaning media.

The rally was first announced by Nika Gvaramia, director general of Rustavi 2, who said at his special press briefing on February 14 that the court proceedings over Rustavi 2 ownership dispute were coming to an end, suggesting that the ruling would not be in favor of current owners.

Rustavi 2 TV went off the air for two days until the demonstration as an act of protest to what it regards the Government's interference in media and as a call to its viewers to gather in support of the television channel.

Zaal Udumashvili, deputy director of Rustavi 2 and anchor of the TV channel's main news program, was the first to address the demonstrators on February 19.

"Rustavi 2 is back on the air from now on, which means that the channel will never go off again," Udumashvili told the protesters.

"If Rustavi 2 falls, this will not be the fall of only one television … This will mean that there will be no space left for covering your problems, for bringing your problems to the entire country," Udumashvili stated.

"For the last two years, we have been working under unbearable conditions: permanent blackmail, menace, asset freezing, and pressure … We have never backed down in this uneven battle. But everything should have its end."

"The fact that you all have gathered here, is a reassurance that Rustavi 2 and free speech will never be threatened in this country," he added.

Nika Gvaramia, director general of Rustavi 2, addressed the rally as well blaming former Prime Minister Bidzina Ivanishvili for muzzling the media.

"This man," he said, referring to Ivanishvili, "is wiretapping us all the time," but "we will always show what he does, how he stills our properties and how he stands behind the state officials."

"We are asking for a very simple thing, we demand justice, we want what belongs to us by law and what is lawful," Gvaramia stated and added that the Supreme Court, which is adjudicating the Rustavi 2 ownership case, "should protect not only free speech, but it should, once and for all, give birth to an independent court in this country."

In a bid to mark the event as a civic protest, no politicians spoke during the event. Political leaders and their activists were, however, were widely present among the protesters.

Both the United National Movement and the Movement for Liberty – European Georgia gathered their supporters at two different locations and marched to Rustaveli Avenue, the main venue for the demonstration.

European Georgia's Giga Bokeria said that the rally belongs "to neither a single party nor a single television station." "This is a rally for protecting our children, our freedoms and our future. Therefore, we call on Ivanishvili and his team not to make a fateful mistake and not to encroach on Rustavi 2. This will be damaging for the country and this will cost Ivanishvili his power."

Davit Bakradze of the same party stated that Rustavi 2 is "a frontline in the battle for this country's better future." "If there is no free speech in Georgia, if there is no critical media, this will mean that Georgia will never be an established state," Bakradze stated.

Nika Melia, who led the activist of the United National Movement and a number of small political parties, said that Rustavi 2 is "the only guarantee" of media freedom in the country. "Ivanishvili has a single objective – to maintain influence over the entire political spectrum … [But] he saw very clearly today, that this will not pass," he stated.

"Free speech is the most important value, which guarantees all other freedoms. Without it, all these values will be lost. Therefore, it is important to protect it, at the cost of life, if needed," UNM's Nika Rurua stated.

Leaders of the Republican, the New Rights and the Labor parties were also present at the demonstration.

"I protect every media organization, which is not controlled by the state," Republican Party's Davit Berdzenishvili told the reporters at the meeting.

"I came here so that no other Government in Georgia dares to go after media organizations." Manana Nachkebia of the New Rights said.

"The processes that we are witnessing today is because the oligarch failed to subject Rustavi 2 to its rule and failed to make it his trumpet," Labor Party's Giorgi Gugava stated.

Current owners of Rustavi 2 are locked in a court battle with its former co-owner Kibar Khalvashi, who tries to regain control over the television channel. The TV channel, which claims that former owner's lawsuit to regain the broadcaster is orchestrated by the government with the aim to seize the channel, lost the battle in the court of first instance and also in the appellate court and took the case to the Supreme Court.