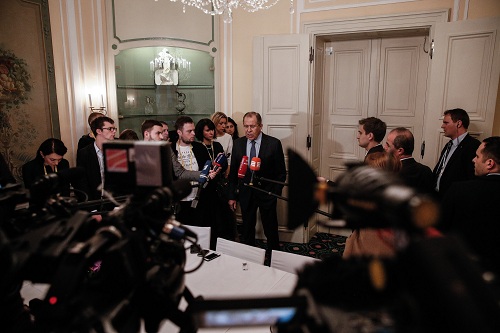 Russian Foreign Minister Sergey Lavrov at the Munich Security Conference, February 18, 2017. Photo: Russian MFA
Georgian diplomats responded to Russian Foreign Minister Sergey Lavrov's February 18 statement, according to which, Georgia was referred to as one of the transit routes for terrorists.

Responding to the journalist's question on the sideline of the Munich Security Conference on a possible visa waiver for Georgia, Sergey Lavrov stated that Moscow "is pleased that relations have begun to normalize," but added that the visa-free movement "is a quite difficult" issue.

"It is associated not only with the absence of diplomatic relations … This is also connected with the necessity to ensure security in the circumstances, when not only Central Asia, but also the Trans Caucasus, regions of the South Caucasus are becoming routes, which insurgents, extremists, terrorists and drug traffickers are actively trying to use," Lavrov stated.

He also added the sides "can talk about further facilitation of the visa requirements," only when the Russian and Georgian law enforcement agencies "establish full cooperation" and when "all of these risks can be prevented on both sides as much as possible."

Commenting the statement of the Prosecutor of the International Criminal Court Fatou Bensouda that Russia is reluctant to cooperate with the ongoing August 2008 war investigation, Sergey Lavrov said that Moscow has "a certain position on how this particular process was framed by the prosecutor."

"She completely ignored the extensive materials that have been filed by South Ossetia, Abkhazia and the Russian Federation. These materials documented and absolutely unequivocally confirmed that the conflict was started by Mikheil Saakashvili," Lavrov stated.

"When the individual applications of those who have suffered from this conflict in South Ossetia and whose relatives were killed, were put aside, it became clear that the prosecutor had a one-sided position. We have announced long ago that we cannot cooperate [with the investigation] in this situation," Lavrov added.

Zurab Abashidze, Georgian PM's special representative for relations with Russia, was the first to respond to Sergey Lavrov.

Speaking at his special press briefing on February 21, Abashidze said that the two countries' positions on who initiated the 2008 war is "radically different."

"Last year we had a record high number of tourists, around one million tourists from Russia. This number and the fact that foreign tourists feel comfortable in Georgia, is a confirmation that the level of security is high in Georgia," Abashidze noted.

Therefore, Abashidze added, Lavrov's statement "is inaccurate with respect to Georgia and we cannot accept it."

"As far as we know, around two thousand citizens of Russia have gone to Syria and Iraq," Abashidze added.

Zurab Abashidze also said that Tbilisi will welcome if Russia facilitates or cancels visa requirements for Georgian citizens, but stressed that "it is up to the Russian side to decide what kind of visa regime it uses for Georgian citizens." Georgia, in his words, "cannot impose anything" on Moscow.

Deputy Foreign Minister Davit Dondua, who also spoke on the matter at his February 21 press briefing, said that "the trust that the European Union expressed through granting the visa-free movement is a clear proof that Georgia is a secure country."

"As it concerns the diplomatic relations, we have reiterated and they know this well in Moscow, that until Russia has embassies in Tskhinvali and Sokhumi, we cannot speak on restoring the diplomatic relations," Dondua added.

Foreign Minister Mikheil Janelidze responded to his Russian counterpart on February 22 saying that there "is nothing new" in the statement.

"The Russian Federation understands full well that the diplomatic relations cannot be restored when Georgian territories are occupied by Russia," Janelidze stated in his interview with Imedi TV.