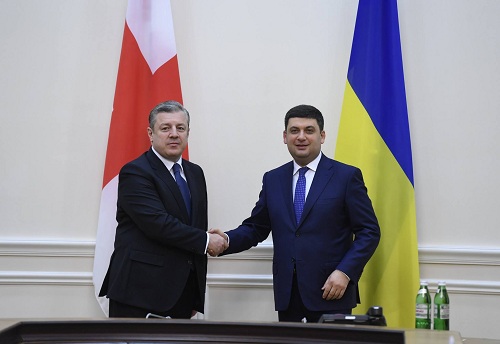 PM Giorgi Kvirikashvili and PM Volodymyr Groysman, March 27, 2017. Photo: Georgian Government Administation
On the sidelines of the GUAM summit in Kyiv on March 27, Prime Minister Giorgi Kvirikashvili held talks with his Ukrainian counterpart Volodymyr Groysman, where the two discussed the Georgian-Ukrainian bilateral cooperation.

The Ukrainian Government's administration reported that the sides focused on commercial and economic relations and stressed the need of spurring cooperating in the areas of energy, infrastructure and agriculture.

Prime Minister Groysman thanked Kvirikashvili for supporting Ukraine on the international arena. "We feel your consistent support to our territorial integrity, your stance regarding the Russian aggression towards Ukraine … [which] is very important to us," Volodymyr Groysman said.

At the end of the meeting, Giorgi Kvirikashvili invited his Ukrainian counterpart to Georgia to attend the Silk Road Forum in Tbilisi in November. The sides also welcomed the upcoming meeting of the Joint Intergovernmental Ukrainian-Georgian Commission on economic cooperation on April 12-13.

On the same day, Prime Minister Giorgi Kvirikashvili also participated in the joint meeting of President Petro Poroshenko with leaders of GUAM member states.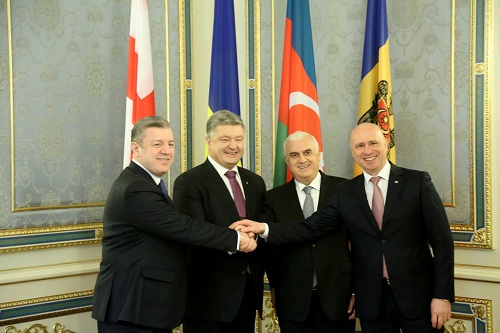 President Poroshenko with leaders of GUAM member states, March 27, 2017. Photo: Georgian Government Administration
The Ukrainian President's administration said in its press release of the meeting that Poroshenko praised the results of the GUAM summit for its "significant importance for the launch of the GUAM free trade area."

"The parties praised the signature of the documents that will promote the development of the GUAM transport corridor as an important communication link between Europe and Asia, as well as open broad opportunities for the enhancement of economic ties between the countries of the organization," the administration reported.

The topic of conflict regions, which all four countries share, was also discussed at the meeting. "The parties confirmed mutual support for sovereignty, territorial integrity and inviolability of the internationally recognized borders of the states-participants of the GUAM," President Poroshenko's administration said.