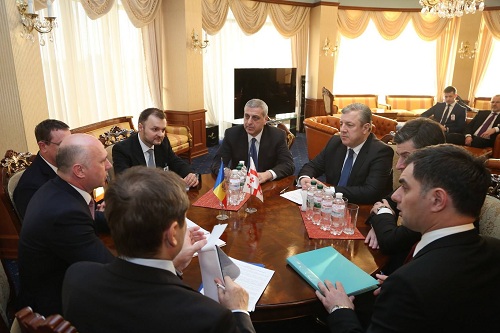 Georgian and Moldovan Delegations in Kyiv, March 27, 2017. Photo: Georgian Government Administration
Prime Minister Giorgi Kvirikashvili met his Moldovan colleague Pavel Filip in Kiyv on March 27 as part of the GUAM summit and discussed the Moldovan-Georgian political and economic relations, both at the bilateral level and within international organizations.

Pavel Filip welcomed the completion of Georgia's visa liberalization process with the European Union, stressing that this represents "a step towards carrying out the country's European integration," Moldovan Prime Minister's administration reported. He also highlighted the "good cooperation" between two countries in terms of their European integration, within the Eastern Partnership and the DCFTA implementation process.

Speaking on the prospects of economic relations, the Prime Ministers noted the upcoming Moldovan-Georgian intergovernmental commission meeting for commercial and economic cooperation, due to take place in Tbilisi on April 27-28. "I am confident that this meeting will give an impetus for the development of the cooperation in the trade and economic sector, and the bolstering of the Moldovan-Georgian relations will speed up the European integration of both states," Pavel Filip said.

According to the Moldovan Prime Minister's administration, Pavel Filip expressed interest in sharing Georgia's "good practices" in the fields of justice, domestic affairs and defense, "as well as in terms of diversifying the energy sources, promotion of exports and investment attractiveness."

At the meeting, the sides also spoke on their conflict regions. "Pavel Filip reaffirmed Moldova's strong support for Georgia's territorial integrity and sovereignty," the Georgian Prime Minister's administration reported.