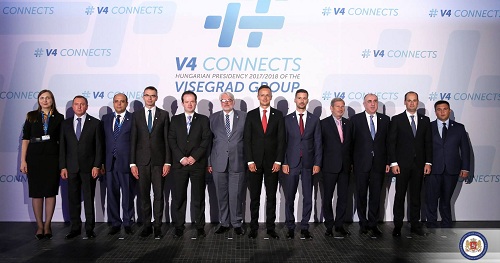 Ministerial Meeting on Eastern Partnership, August 30, 2017. Photo: MFA of Georgia
Georgian Foreign Minister Mikheil Janelidze was in Warsaw on April 12 for the Ministerial Meeting on the Eastern Partnership bringing together the Ministers of Foreign Affairs of the Visegrad Group and the Eastern Partnership (EaP) countries, as well as the representatives of Bulgaria, Croatia, Estonia, Malta, Romania, Sweden, Slovenia, the United Kingdom, and the European External Action Service.

Johannes Hahn, Commissioner for European Neighborhood Policy and Enlargement Negotiations, was also present at the meeting.

The participants focused on cooperation with a view to the upcoming fifth Eastern Partnership Summit in Brussels in November, 2017, as well as the future of the European Union's Eastern Partnership initiative, more broadly.

Apart of Georgia, the EU Eastern Partnership initiative also involves Armenia, Azerbaijan, Belarus, Moldova and Ukraine. The Visegrad Group of states includes the Czech Republic, Hungary, Poland and Slovakia.

In a joint statement after the meeting, the foreign ministers of the Visegrad Group reaffirmed their "strong support to the EaP as a strategic dimension of the European Neighborhood Policy and a key and active factor of stability and economic progress in Eastern Europe."
"They call EU institutions for appropriate steps to keep Eastern Partnership high on the EU's agenda according to the EU Global Strategy and ENP Review," the declaration reads.

The Ministers emphasized that the Eastern Partnership should have a "clear political narrative, a new strategic vision and an architecture guaranteeing ownership of European institutions, Member States and Partner states."

They also "agreed that the Brussels Declaration should reflect different aspirations of partner countries and offer an European perspective for the interested partners, as well as set out and ambitious agenda for the Eastern Partnership in the longer perspective."

The Ministers also reconfirmed that "the implementation of Association Agreement/Deep and Comprehensive Free Trade Area is a key task for Georgia, Moldova and Ukraine" and "welcomed granting the visa-free regime to citizens of Georgia."

"The success of the Eastern Partnership is based on our shared values. Our partnership aims to deliver tangible and visible results for our citizens; results that contribute to greater stability and resilience of the region," Commissioner Hahn said ahead of the meeting.
"In the last year, we have been advancing in priority areas - economic development, strengthening institutions and good governance, mobility and people-to-people contact, and notably connectivity, but still more needs to be done. In Warsaw, I will stress that the Eastern Partnership is and will remain our priority for the future," Hahn added.

On the fringes of the meeting, Georgia's foreign minister Mikheil Janelidze held talks with his colleagues from Slovakia, Romania, Sweden, the Czech Republic and Ukraine.