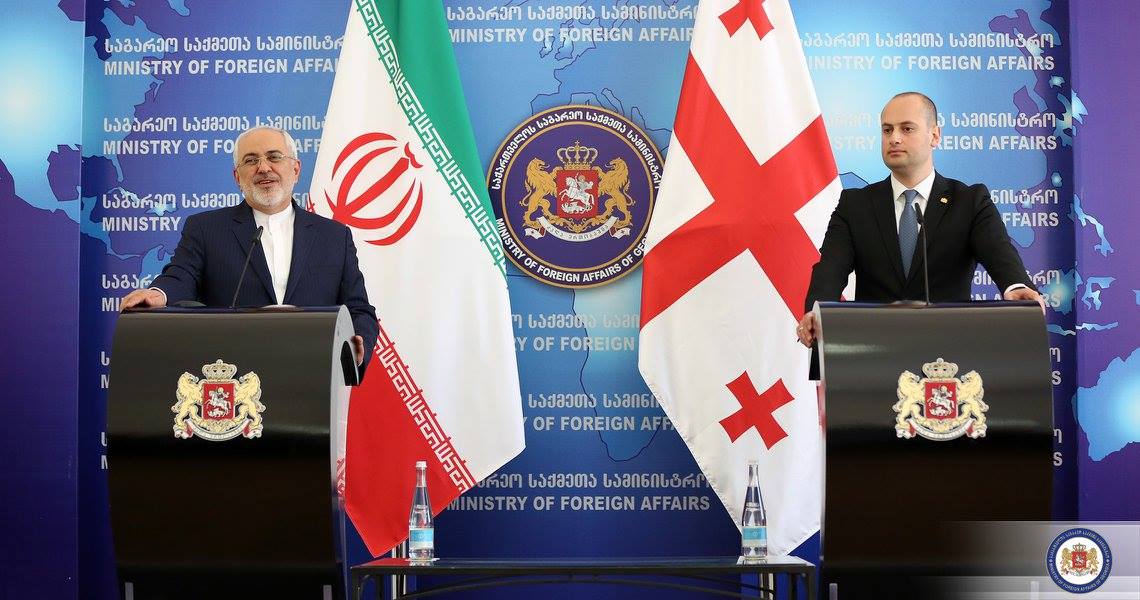 Mohammad Javad Zarif and Mikheil Janelidze, April 18, 2017. Photo: MFA Georgia
Mohammad Javad Zarif, Foreign Minister of the Islamic Republic of Iran, was in Tbilisi on April 18 on his first ever official visit to Georgia.

Foreign Minister Mikheil Janelidze was the first to meet his Iranian counterpart. Javad Zarif and Janelidze told the journalists at their joint press briefing after the meeting that the two discussed a range of issues of bilateral and multilateral cooperation, as well as the upcoming official visit of Prime Minister Giorgi Kvirikashvili to Tehran on April 22-23.
Janelidze noted at the press briefing that increasing bilateral trade and transit potential of Georgia was the major discussion topic during the talks.

"Today Georgia as a European country represents a gateway for Asian countries to Europe and vice versa. The Georgian government is committed to further develop this function of the country," Mikheil Janelidze stated.

"I believe opportunities are extensive," Javad Zarif responded. "The opportunity of the corridor between the Persian Gulf and the Black Sea which brings not only our countries together but brings the world closer."

The two ministers also stressed the importance of the Iranian-Georgian business forum held within Javad Zarif's visit to Georgia.

"This visit is yet another effective way to bring to the attention of Iranian businessmen Georgia's opportunities and to allow Georgian businessmen to establish and develop direct contacts with their Iranian partners," Mikheil Janelidze said.

Mikheil Janelidze also thanked his counterpart for the Iranian Government's support for Georgia's sovereignty and territorial integrity.

As part of the visit, Mohammad Javad Zarif also met with Prime Minister Giorgi Kvirikashvili, President Giorgi Margvelashvili, Parliamentary Chairman Irakli Kobakhidze and Economy Minister Giorgi Gakharia.