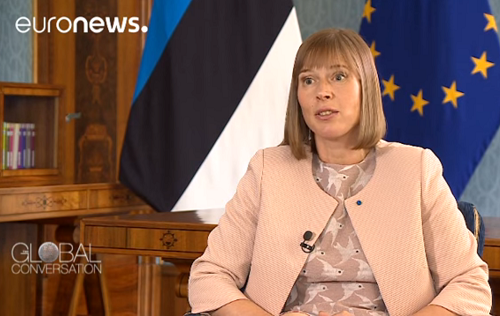 Estonian President Kersti Kaljulaid, July 5, 2017. Photo: screengrab from Euronews
In her Euronews interview on June 5, Estonian President Kersti Kaljulaid said the Western world "made an error" when it failed to react more robustly to the Russian invasion of Georgia in 2008.

Speaking on Moscow's actions in Eastern Europe, President Kaljulaid said Vladimir Putin had intended to "renegotiate, rearrange" the international security architecture "already before the Georgian war."

"In Georgia, the Western world made an error, because they did not see that they are teaching [Russia] a wrong lesson … in Georgia, Russia learned that if you act, the reaction is relatively mild, so the avalanche arrived in Crimea," President Kaljulaid noted.

The President added that after Crimea "everybody understood" what stood behind Russia's actions, recognizing them as "a threat to our international security architecture."

Estonia assumed the rotating six-month Presidency of the Council of the European Union on July 1, 2017. "Supporting and strengthening relations with Eastern Partnership countries," is among the priorities of the Estonian Presidency.