Students lead the way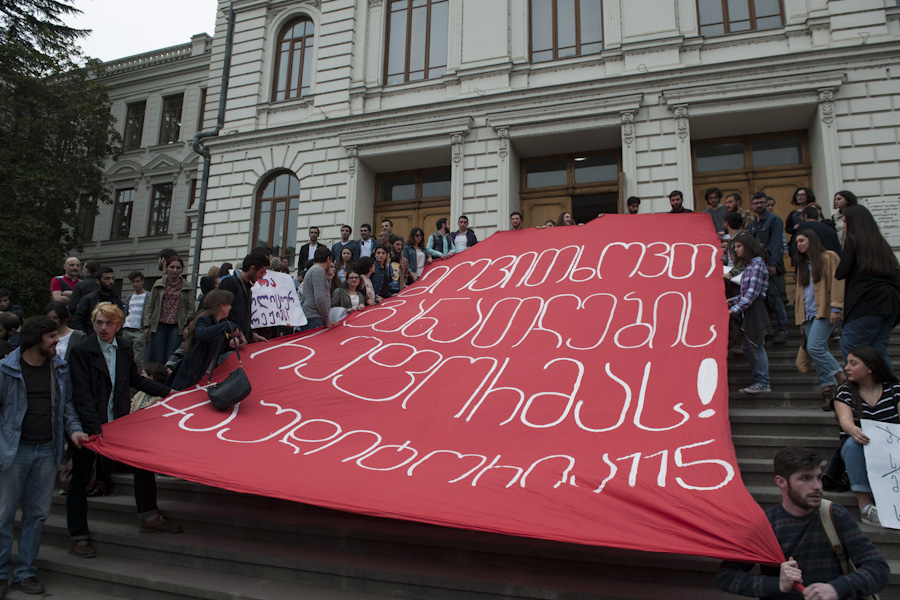 In March 2016 Georgia's oldest and largest university, Tbilisi State University (TSU) was shaken by a week-long student protest which grabbed national headlines. Sparked by alleged mismanagement of university funds by the officially sanctioned Students' Union, their demands soon encompassed fundamental reform of the higher education system and ending government interference in university affairs.
While smaller-scale protests have been held at TSU before, they soon faded away after the initial event. The new movement — which soon became known as Auditorium 115, after the name of the venue of their first sit-in — proved much more lasting, perhaps due to its ability to tolerate relative heterogeneity, while agreeing on core principles. Professing messages of social equality and solidarity, Auditorium 115 has staged countless protests since its initial protest, still championing its cause in higher education, but expanding its agenda to other socio-economic issues, including labour rights.
Capitalising on the media visibility gained at TSU, the movement has been at the forefront of solidarity marches, supporting factory workers from the industrial towns of Rustavi, Zestaponi, Chiatura, Tkibuli, and Kazreti. They also directed media attention towards the dismal working conditions of youngsters employed in "] Students stand in solidarity with laid off workers of Rustavi Azoti plant. Feb. 2017. Photo: Eana Korbezashvili/Civil.ge[/caption] store chains such as supermarket Fresco and bookstore Biblusi. Standing up for human rights and dignity, the movement has shown solidarity with LGBTQ activists, and stormed the Georgian Public Broadcaster demanding its sacked employees be heard.
The activists believe that social hardship and labour oppression are linked directly to the state of democracy and equality in Georgia. 'The neoliberal agenda leaves lower class interests behind. This threatens Georgian democracy', argues Auditorium 115's Giorgi Sopromadze, 'we are the majority, yet we are an oppressed majority'. The attitude towards the conflict regions follows the social agenda championed by Auditorium 115. In August 2016, to mark the 8th anniversary of the Russian–Georgian war, Auditorium 115 criticised the Georgian Government for focusing only on the geopolitical side of the conflict, while considering secondary the social, political, and economic needs of internally displaced people and those living across the Russian occupation line. The statement read 'we offer our sympathies to all the families who lost members. We sympathise with all those people who lost their homes and became victims of the war'. Efforts to reach out to Georgia's derelict industrial heartlands has brought unprecedented solidarity between the capital and provinces.
Synergy of membership and agendas
These socially oriented youth movements seem to be mushrooming, but their membership remains fluid, their borders — porous. As Tsotne Tskhevdiani, a young activist, puts it, 'I am a member of Auditorium 115, Green Fist, Cybertheatre of Indirect Action, Women's Vision, the Tbilisi Solidarity Network… These [movement identities] are optional, since the only group I consider myself to be [truly] part of is based on [my] class identity'.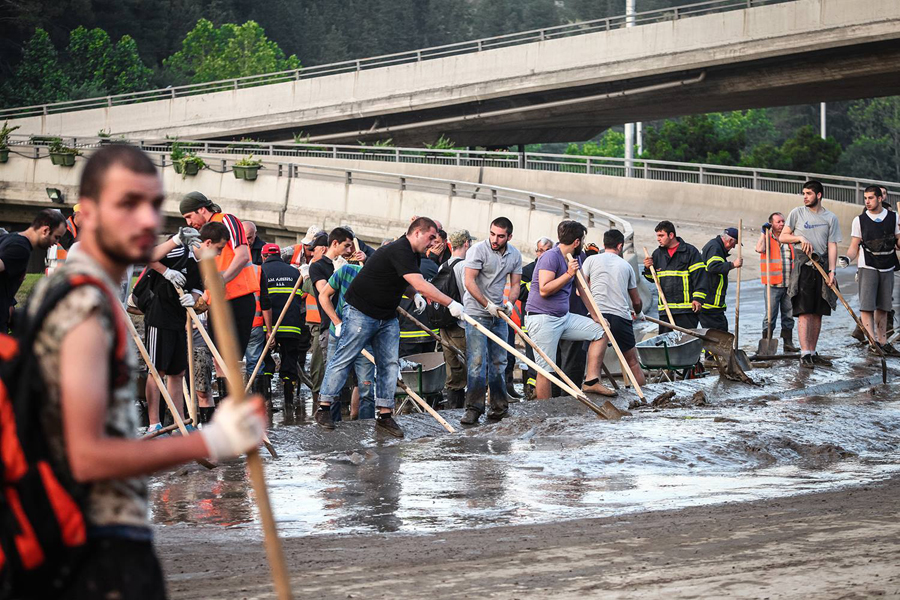 The Green Fist is a group of students united by green activism, and its membership overlaps with Auditorium 115. Founded in the summer of 2013, the group describes itself as a 'Green left movement', but also focuses on labour rights, the state of democracy in Georgia, as well as in its neighbourhood — most recently protesting the hardening of the regime in Turkey.
Despite focusing mostly on ecological issues and environmental activism, the Green Fist also dedicates some time to the areas affected by the Georgian–Russian conflict. 'The Green Fist arranged a library in the village of Nikozi, near the occupation line, where we help local kids, we brought two personal computers… From time to time we arrange public discussions and lectures there', says activist Irakli Kupradze. He adds that 'every Independence Day we Growing weight?
In June 2017, the political power of the new youth movements became visible in a large, spontaneous street demonstration in support of a the Birja Mafia rap duo. The two were arrested for alleged possession of party drugs. Its members said that police have threatened them for a YouTube video satirising the 'gangsta rap' style, which contained a depiction of an artist impersonating a policemen on a dog leash. Even though the group agreed to blur out the offending scene, they have claimed that the drugs were planted on them by police, leading to their near-simultaneous detention in two separate districts of Tbilisi.
White Noise march in support of arrested rappers. ] Both Auditorium 115 and Green Fist have joined a protest in solidarity, which was led by the White Noise Movement — yet another group, who rally against repressive drug-policy and advocates for decriminalisation of cannabis and other soft drugs. The Birja Mafia case resonated, since it has gathered young people concerned not only with overly repressive drug policies, but against perceived police abuse, and for free speech. The protests resulted in the release of the duo on bail, although their trial is still pending. In this protest, the youth movements' ability to cooperate across different agendas and to mobilise through social media were vividly showcased. Should this capacity hold, these movements could increasingly become a political force to be reckoned with.
Extreme-right nationalists in Georgia
Across the aisle from the socially liberal, politically socialist movements, Georgia is also witnessing a rise in extreme-right youth nationalism. One such group, Georgian Power, was at the forefront of the Kiwi Café debacle, and has gained prominence in both social and traditional media. Since then, Georgian Power has staged numerous nationalist demonstrations, usually attracting a crowd of around 150–200 people, mostly young men of between 15–25 years of age. The LGBTQ community, hipsters, and left-wing movements are their primary targets.
But most recently, Georgian Power has been mobilising on social media against what it terms 'illegal immigrants', targeting residents of Tbilisi from Turkey, the Middle East, and South-East Asia, as well as the small businesses they own. While propagating anti-liberal, anti-left, anti-globalist, militaristic, white supremacist, homophobic, and misogynist discourses, the group describes itself as 'the only true force in Georgia striving towards traditional Europe'.
The group thus inscribes itself into a pan-European trend of (re)emerging illiberal movements, but also echoes similar groups in Eastern Europe that are often formed on the basis of sports fan-clubs, martial arts, and paramilitary enthusiasts groupings. Georgian Power claims to be a patriotic force, and angrily rejects accusations of aiding the Russian cause by fomenting internal conflict in Georgia. In a video commemorating 25 February 1921, the day Tbilisi was seized by invading Soviet troops, Georgian Power stated: 'today is the day our co-religionist neighbour, our quasi-friend [Russia] spilled Georgian blood once again. A day when Georgian heroes sacrificed themselves. We will not forget this day… We are under occupation, but we can still fight, fight against our ignorance'.
Fledgling politics
It is an interesting time for social movements in Georgia. After a period of political apathy, a new generation Georgians is stepping into the political scene. This generation is far more aware of European political trends than their predecessors in the early 1990s — for better or for worse. As this befits youth movements, they are challenging established orthodoxies.
Left wing movements are breaking the taboo on socialism, long associated with the Soviet past, to campaign for the rights of underrepresented sections of society. The extreme right-wing forces also claim to speak for the oppressed — by this time by what they see as globalisation diluting or denying the national and ethnic identity of nations.
While various groups jockey for influence and test out ideological constructs and public responses to them, the future of Georgia's politics will be built on channeling these discourses into mainstream electoral politics — either by already established parties, or through the creation of new ones. For the future of dialogue with residents of Abkhazia and Tskhinvali region/South Ossetia, across the occupation line, the picture is mixed.
Left-wing movements focus on individual rights and human protection, creating an opening for re-thinking topics and paths towards reconciliation. However, they have neither articulated any clear vision of conflict settlement nor have they had any contact with Abkhazian and Ossetian communities. Georgian Power and other extreme-right social movements in Georgia, on their part, seek legitimacy in mainstream nationalist views, while hardening them further. They have widened their scope to embrace white supremacist symbols, directing their actions also against Asian immigrants and tourists.
While so far less prominent than their opponents, the extreme-right can draw on a significant reservoir of obscurantism and xenophobia which exists in Georgian society. It is nonetheless encouraging that the scene of the political debate remains open, forcing politicians to seek support rather than impose their will. The rest will depend on the ability of Georgia's institutions to channel this debate into a constructive political process.
This article was prepared in partnership with OC Media with funding from COBERM. All place names and terminology used are the words of the author alone, and their opinion may not necessarily reflect the views of the editorial boards of OC Media or Civil.ge.