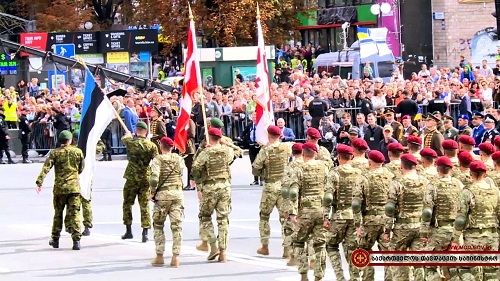 Georgian platoon marching at the Independence Day in Kyiv, August 24, 2017. Photo: mod.gov.ge
A platoon from the Georgian National Guard took part in the military parade held in Kyiv on Ukraine's Independence Day on August 24.

Georgian First Deputy Minister of Defense Lela Chikovani, who attended the parade, said that participation of Georgian soldiers was "an expression of our support to the Ukrainian people and the Ukrainian government, and of our unity."

Defense Minister Levan Izoria was to attend the parade himself, but cancelled his visit to Ukraine due to the Georgian military's participation in quelling the wildfires raging in Georgia.

Ukraine's President Petro Poroshenko thanked Georgia for its participation, according to the Georgian Defense Ministry.

Georgian Defense Ministry delegation held meeting with the U.S. Defense Secretary James Mattis, also on a visit to Kyiv. Secretary Mattis expressed his support for the Georgian government and its ongoing defense reforms, the Defense Ministry reported.

Military servicemen from Canada, Estonia, Latvia, Lithuania, Moldova, Poland, Romania, United Kingdom and United States also participated in the parade.