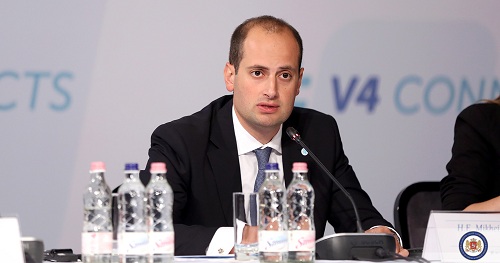 Foreign Minister Mikheil Janelidze in Budapest. August 31, 2017. Photo: MFA Georgia
Membership of the European Union is the "ultimate goal" of Georgia, Foreign Minister Mikheil Janelidze stated on August 31.

Minister Janelidze spoke on the EU-Georgia relations and the upcoming Eastern Partnership Brussels summit in November at the joint press conference after the ministerial meeting of senior diplomats of the Visegrad Group and the Eastern Partnership countries in Budapest, Hungary.

"We expect that the Eastern Partnership summit will give a new impetus to our partnership and contribute to the further deepening of integration process and cooperation," Janelidze said, adding that the Eastern Partnership initiative has already "given a lot to Georgia."

"The process of political association with the European Union, as well as the economic and market integration continues successfully, Georgian goods are establishing their positions on the European market, the European Union has become the top trading partner for Georgia, investments have been dynamically increasing, Georgian citizens can travel to the Schengen countries visa-free, Georgia joined the Energy Union," the Minister stated.

"We are convinced that the comprehensive approximation process with the European Union will open up new perspectives [for us]," Janelidze also noted and added that "of course, our ultimate goal is to become a full-fledged member of the European Union."

"We are doing everything possible to achieve tangible results and for that, are ready to fully implement the ambitious agenda of Georgia-EU relations," Janelidze went on.

"Georgia is committed to the Eastern Partnership initiative. This is our common project and a framework for wide opportunities, which offers each of its participant a chance to benefit from the potential of partners, according to its individual aspirations and interests. Therefore, we hope that our future summit will adequately address all these aspirations," the Minister concluded.