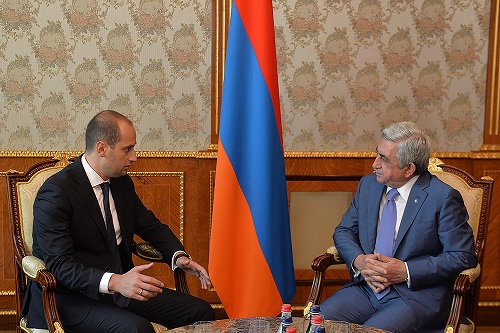 Mikheil Janelidze and Serzh Sargsyan, September 11, 2017. Photo: president.am
Georgian Foreign Minister Mikheil Janelidze met his Armenian counterpart Edward Nalbandian and President Serzh Sargsyan on September 11 during his one-day working visit to Yerevan.

Georgia's Ministry of Foreign Affairs reported after Mikheil Janelidze's meeting with Edward Nalbandian that the two diplomats spoke on bilateral relations between the two countries. "Particular emphasis was drawn to trade and economic cooperation prospects, including transport, energy, culture, tourism and other fields," the Ministry stated.

"The sides also outlined the steps aimed at resolving the issues of Georgian-Armenians' concern," the Armenian Foreign Ministry stated.

The Armenian President's office said in its press release of the meeting, that along with bilateral relations, Minister Janelidze and President Sargsyan also discussed the Georgian-Armenian cooperation in international and multilateral formats.

At both of his meetings in Yerevan, Minister Janelidze expressed gratitude to Armenia for its support in quelling the massive forest fire in Borjomi in late August.

Armenia is one of the leading trade partners for Georgia, according to the State Statistics Office, Geostat. Georgia's trade turnover with Armenia stood at USD 367.6 million in 2016, with exports at USD 150.8 million (USD 180.1 million in 2015) and imports at USD 216.8 million (USD 175 million in 2015).