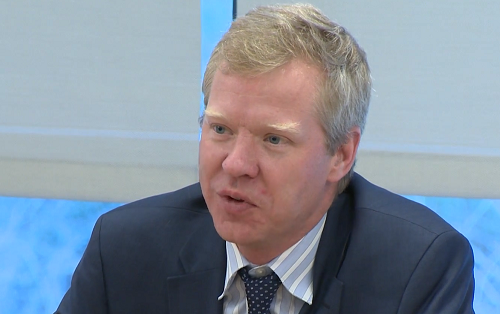 Svante Cornell. Photo: screengrab from youtube, lecture at ADA University
Civil.ge spoke about the Georgian-Russian relations, the war in Ukraine and the Swedish policy towards the Eastern Partnership countries to Svante Cornell, Director of the Stockholm-based Institute for Security and Development Policy.

Various Georgian governments since the restoration of independence in 1991 have been starting their tenure by unsuccessful attempts to improve relations with Russia. In your opinion, is it possible at all for Georgia to normalize relations with Moscow without critically compromising its own sovereignty?

In principle, it is not possible, at least not on its own. The problem is that Moscow's very goal in its relationship with Georgia is to undermine the country's independence, and if Georgia is acting on its own, the power differential is simply too large. The Georgian Dream government came in with the idea, laudable in principle, to square the circle by normalizing relations with Moscow by trying to build confidence and behaving in a less provocative way rhetorically. They came to be disappointed, because they had probably overestimated the extent to which the problems in the Georgia-Russia relationship were an effect of Saakashvili's policies. There were clearly problems in Saakshvili's approach. However, the basic, underlying problem goes much deeper and relates to Russia's ambitions and not to Georgian policies. Shevardnadze experienced this: in the 1990s, he tried to offer Russia almost everything Moscow wanted, but it was never enough and Moscow never reciprocated. The same happened to the GD government. Russia sees concessions as signs of weakness and reacts accordingly. The only way in which Georgia could normalize relations with Moscow without losing sovereignty is in two scenarios: first, if by some magic a normal, non-imperial government comes to power in Russia. And second, if Georgia is provided with ironclad security and defense guarantees. This is how the Baltic states were able to improve their relations with Russia after obtaining NATO membership, because Russia understood the game was over.

The land grabs by the Russian and Russian-backed forces on the occupation line in Georgia still continue. What do you think should be the proper Georgian policy in response to these actions?

Georgia's problem is that it is only using diplomatic means, and the mobilization of western verbal support. Aside from that, only the EUMM is providing some modicum of buffer between Georgia and Russia, but its main value lies in its ability to prove Russian claims of Georgian "provocations" to be lies. Meanwhile, Russia is behaving unilaterally, on the ground; Georgia is not in a position to reciprocate. The key question is whether Georgia must, at some point, deploy some form of defense force on the administrative boundary line. This would be dangerous, of course; and many would see it as a policy that risks "irritating" Russia, and the like. However, if a country is not defending its own border, it means its legitimacy as a state is damaged. Of course, putting army units on the border to prevent Russian encroachments would be a possible cause for escalation and might allow Russia to cause new military confrontations. Putting unarmed military forces on the border would, at least, force Russia to take more aggressive steps than simply move fences or roll into Georgian territory unopposed. It would, of course, potentially put these Georgian units in harm's way without ability to defend themselves. Neither option is particularly appealing; but at some point need to be considered if Russia is not simply to be allowed to unilaterally decide when and how to breach Georgia's territorial integrity further.

You co-authored a paper on the Russian bombing campaign in Georgia in 2009-2011, together with a great friend of Georgia Johanna Popjanevski. Since then, we have seen a number of other incidents of this kind that appear to originate from Russia, particularly in Ukraine. Do you think this receives the attention it deserves from the international community?

No. And this goes for all Russian actions that employ what could be called implausible deniability. Deniability because Russian officials are not spotted "holding the matches" that start the fire; but implausible, because everyone understands – or should understand – that the Russians are behind it. Today's media and western politicians often do not fully understand Russian methods, are not willing without concrete evidence to point the finger at Russia for deeds that are obviously Russian, such as Tsitelubani, or the bombing campaign.

Together with Poland, Sweden was leading in its support for the launch of the Eastern Partnership. How would you assess the Swedish policy in Eastern Europe today – does it engage actively enough with Russia's neighbors that are threatened by its actions?

Sweden has continued its engagement and support for Eastern European countries in a bipartisan manner, irrespective of the change of government in 2014. Under the current social democratic-led government, there is continued engagement by the bureaucracy and diplomatic corps, with the support of the political leadership. Sweden has focused strongly on three countries: Ukraine, Georgia, Moldova. These happen to be the countries that go furthest in terms of European integration and democratic development. My personal opinion is that this should not be the sole criteria for engagement. At this point, given the realities we are facing, there is a need for a greater engagement also with countries like Belarus, Azerbaijan, Kazakhstan, Uzbekistan. It may be asking too much for a country with limited resources such as Sweden to conduct such engagement, given that it has already invested much larger resources than many much larger EU countries in the Eastern Partnership. But it would certainly be desirable, and we are seeing the gradual efforts to intensify such relations.

Two questions about Ukraine. Are you optimistic about future adequate Western support of Ukraine in the face of the ongoing Russian aggression, including supply of lethal weapons? And do you fear there is a risk of internal political instability in Ukraine, due to the public dissatisfaction with corruption and lack of adequate reforms?

I think there is a real risk that Ukraine's internal problems, accelerated by Russian efforts to undermine Ukrainian politics, will lead to a fatigue with Ukraine – somewhat similar to what we see with Moldova, where leaders are widely seen as having manipulated EU leaders to obtain support that did not go where it was supposed to.

After the launch of the Russian aggression against Ukraine in 2014, a certain transformation took place in the Western responses to Moscow's foreign activities. It has been augmented by the recent Russian interference in the American presidential election. Do you think this transformation is going to produce a coherent and robust Western strategy with an express purpose to contain Russian expansionism?

At this point, there is very little that is coherent and robust about western strategy. However, I should admit that I did not expect in 2014 that the sanctions against Russia would survive for over three years. They certainly did not after Russia's invasion of Georgia, as you know. So we should not complain. I think the meddling in internal matters of Western states – not just the U.S. election but interference in France, Germany, and elsewhere, has led to a profound effect that is working to sustain a united front against Russia – and a more sophisticated and realistic understanding of what kind of regime we are dealing with. This is likely to continue. But whether it will lead to a robust strategy that works actively and purposefully to bolster Russia's neighbors around its entire periphery is less clear at this point.