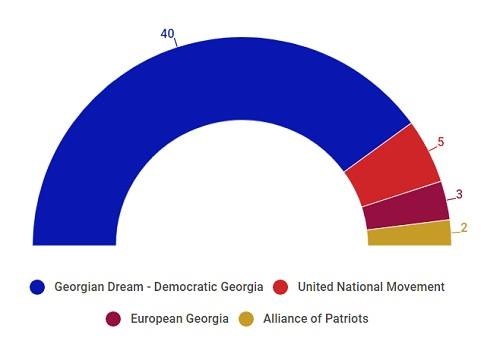 Tbilisi Sakrebulo Composition. Photo: Civil.ge
Preliminary official results of the October 21 municipal elections suggest that the ruling Georgian Dream - Democratic Georgia party is likely to win four-fifth of the seats in 50-member City Council (Sakrebulo) in capital Tbilisi.

If these results are confirmed by final vote tally, it would mean that the ruling party will have 40 seats in Tbilisi Sakrebulo.

Sakrebulos across the country, including the largest one in Tbilisi, are elected through a mixed system – part of the members are elected in majoritarian, single-mandate constituencies through first-past-the-post, winner-takes-all rule, and another part through party-list, proportional contest.

In Tbilisi's 50-member Sakrebulo half of the seats are distributed through party-list representatives and the remaining 25 seats are allocated to winners in capital city's 25 single-mandate constituencies.

Returns from the capital's 723 (out of 737) precincts show four parties clearing the 4% threshold, required for endorsing members in Sakrebulo through proportional system.

According to these results, GDDG is garnering 53.03% of votes, which is likely to be translated into 15 seats out of 25 available for party-list, proportional representation. The United National Movement, which has 17.65 % of votes, is set to win 5 seats under the party-list system, followed by the European Georgia – 3 seats (9.2%), and the Alliance of Patriots of Georgia – 2 seat (5.63%).

GDDG candidates are leading in 25 out of 25 single-mandate constituencies of the capital city.

At least three councilors are needed to form a faction in the Tbilisi Sakrebulo.