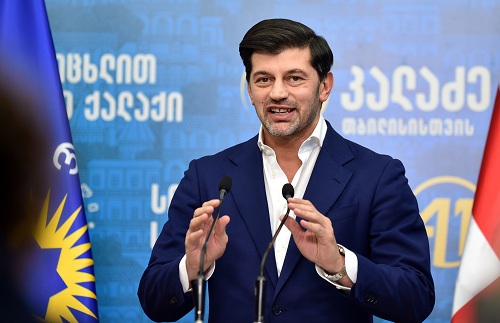 Kakha Kaladze, October 21, 2017. Photo: Georgian Dream
Preliminary election results show the ruling Georgian Dream - Democratic Georgia candidate, Kakha Kaladze, winning the mayoral race in Saturday's municipal elections.

According to the returns from Tbilisi's all 737 precincts, Kakha Kaladze garnered 51.3% of the vote, winning the mayoral office without runoff elections, followed by independent Aleko Elisashvili, who has 17.49%, United National Movement's Tbilisi mayoral candidate Zaal Udumashvili, who has 16.53%, and European Georgia's Elene Khoshtaria, who has 7.12%.

Irma Inashvili of the Alliance of Patriots obtained 3.02% of the vote, followed by New Georgia's Giorgi Vashadze and Democratic Movement – Free Georgia's Kakha Kukava with 1.95% and 1.26%, respectively. No other candidate garnered more than 1% of the vote.

The ruling party won the Sakrebulo contest as well, securing more than four-fifth of the seats in the 50-member city council.

Kakha Kaladze, former footballer who won UEFA Champions League with AC Milan twice, joined the then-opposition Georgian Dream-Democratic Georgia in 2011, leading the party list of the Georgian Dream coalition in the 2012 parliamentary polls. Kaladze was elected in the new Parliament after winning a majoritarian race in his native Samtredia constituency in western Georgia. Shortly after the elections, he was appointed the Energy Minister.