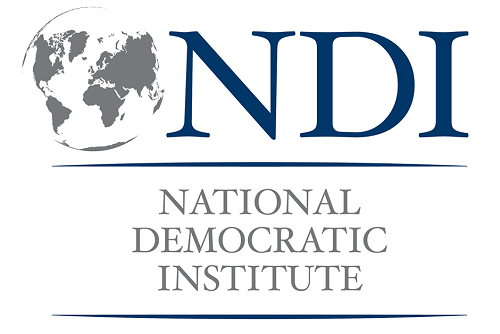 Logo of the National Democratic Institute.
"Election Day progressed without incident in most of the country, and Georgian voters, poll workers, party activists, and candidates demonstrated their commitment to democracy by participating peacefully," the National Democratic Institute's (NDI) election observer delegation said in its preliminary statement on October 22.

The eight-member high-level delegation from the U.S. based nonprofit arrived in Tbilisi on October 16 and held meetings with country's leadership, senior government officials, wide range of election stakeholders across the political spectrum, and civil society representatives. On the Election Day, NDI's 11 observer teams observed opening, voting and counting processes in more than 100 polling stations across the country.
NDI said in its report that "the legislative and electoral framework mostly conforms to international standards and conducive to the conduct of democratic elections." "Polling procedures were generally followed throughout the day and in most observed Precinct Election Commissions, the counting process was reported to be generally calm and orderly."

The delegation stated, however, that NDI observers also reported "several cases of serious procedural violations, errors, and delays resulting from lack of officials' understanding of the procedures, as well as instances of involvement of self-declared party-affiliated observers in the count."

The delegation touched upon the campaign period as well, saying that the Central Election Commission (CEC) "fulfilled its administrative responsibilities, carrying out its duties in a timely, efficient, and transparent manner." "Observers reported a good-faith effort to improve the capacity of officials at lower levels of the commission. Civil society organizations were active, monitoring the process, filing complaints, and suggesting improvements."

The delegation also noted that the most significant complaint from the parties and domestic observer groups during the campaign period was the alleged misuse of administrative resources. "This is an entrenched problem in Georgia that predates the current government," reads the assessment report.

According to the document, "the elections followed a campaign largely devoid of meaningful competition, outside Tbilisi." "The playing field was uneven, with the ruling Georgian Dream (GD) receiving approximately 90 percent of all campaign donations and enjoying ample media visibility, including coverage of government achievements and events. In contrast, opposition parties faced a lack of resources and significantly lower visibility and reach. This imbalance, combined with a lack of extensive policy messages and debates in most of the country, hindered a real contest of ideas and values."

With these preliminary results, reads the assessment, "Georgia appears to have reinforced governance marked by one party's dominance at all levels of elected office." "This has characterized successive Georgian governments since independence and poses a challenge to democratic governance going forward."

"With the further consolidation of power in one party, prospects for vibrant and pluralistic democracy are at risk," said NDI. "The responsibility, of course, lies with country's leaders to create an environment that promotes a genuinely inclusive governing processes and strengthens democratic checks and balances."

The election delegation built its assessment on the work of a pre-election mission, which issued a statement in July, and a team of 14 long-term election observers who, since August, have visited approximately all 64 districts and conducted more than 700 meetings with government and election officials, candidates and political party representatives, civil society organizations, media representatives, and international and diplomatic missions in Georgia.